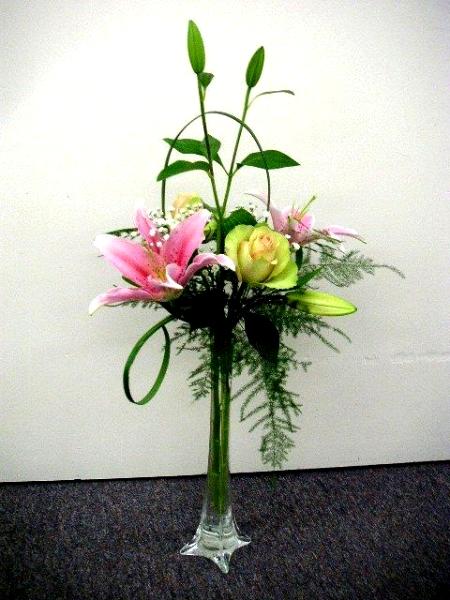 Click on the photo to enlarge it. The photos show a reception floral arrangement and also party table decoration that were made during a flower arranging lesson at the classroom of
California Flower Art Academy
. From time to time we are approached by professional business people such as Event Coordinator, Wedding Planner, Interior Designer, Professional Home Decorator and even a Floral Designer etc etc. They are already engaged in the business as a professional businessperson. From person to person the motivation for approaching our school is a little bit different. However the common idea is that everybody wants to win the competition by way of adding floral designs to their current job.
As a matter of fact, we can find ,on the internet, professional floral decorator demonstrating how to make a beautiful flower centerpiece. But their title is interior artist, home decorating specialist etc etc.These professional artists have a good sense of making artistic decorations by making the best use of their knowledge about floral art in addition to the artistic skill for their primary job.
In case of wedding planner or event coordinator, their main job is, of course, to plan and organize event ceremonies and parties.
If they have knowledge and skills about floral arrangement (especially wedding floral decoration), they can make a difference and be in a better position than other wedding planners. If they can spare time, they can offer wedding flower arranging services themselves. Even if they do not offer such services as a secondary job, they can better manage the job as a wedding planner or better negotiate with vendors of wedding flowers. The knowledge about floral decorations will greatly help to render better services to clients to whom they can better explain about weddings and wedding flowers.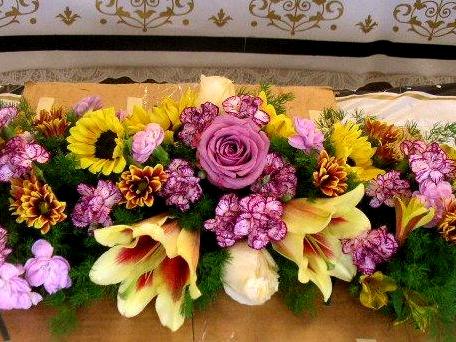 As mentioned above, Event Planner or Event Coordinator can be in a better position to promote their business. Most events need flower decorating services. And every time they do a job of event planning, they need to negotiate with flower vendors or explain to potential customers about how to make decorations and how much it will cost. The knowledge about floral decorations will greatly help them do a better job and it will contribute to winning the competitions.
In case of interior designers or home decorating specialists, the knowledge about floral arrangements is so helpful because flower decorations have a lot to do with interior decorations. We can find lots of professional artists demonstrating how to make holiday centerpieces. Their primary job is interior designer or home decorating specialist. Judging from their demonstration, they have good knowledge and sense of floral and plant decorations. Unless they are trained or take floral arranging lessons, it MAY be very difficult or next to impossible to do such a nice job as a floral decoration demonstrator.
The bottom line is you can be in a better position when doing your primary job by earning skill of floral designing. If you have interest in flower arranging and want to earn practical skills, we can help. You can start from affordable
Introductory Trial Budget Program
or
Fresh Flower Arrangement Elementary Course
. For more information, feel free to contact info@california-academy.com
Here is a YouTube video presenting Easy Home Decor. The source of this video is


Be the first to post a comment.

California Flower Art Academy
has been engaged in teaching a wide range of floral designs in the San Francisco Bay Area and Silicon Valley (San Jose) since 1990 as a floral school certified by Flower Decorators Association (Tokyo Japan). We offer hands on training of ONE ON ONE instructions (semi private lessons) which greatly help entry level students easily and quickly earn a decent level of skills. If you are looking for a reliable floral arrangement instructors or floral design school offering quality classes with cheap, inexpensive and affordable tuition in the San Francisco Bay Area (San Mateo County) or Silicon Valley (San Jose, Santa Clara County), why not join
California Flower Art Academy
? We help you make a difference in floral art.
RSS
|