These flower arrangements were designed and made by our students under the directions of our instructor during real lessons in the classroom of
California Flower Art Academy
. They are what we call "All Round Arrangement" (or "All Around Arrangement" in Europe). At our school, the first arrangement students learn at
Fresh Flower Arrangement Elementary Course
is this design because all round arrangement is the basics of basics.
The fundamental concept about this arrangement is that this design looks the same no matter from which direction it is viewed. Namely regardless of the angle (from front, side or back side), it looks same in its appearance. The view from the top should be round. And it is basically symmetrical arrangement.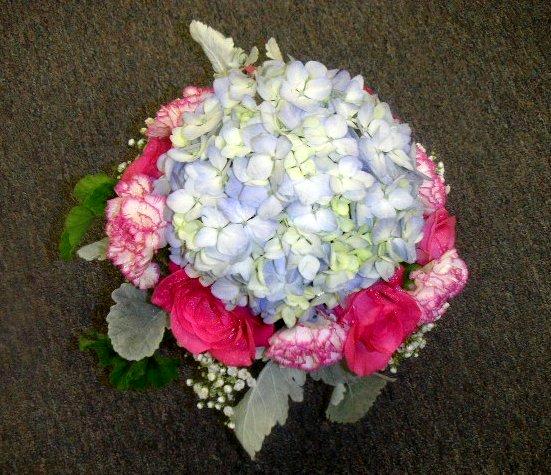 The overall appearance is usually quite simple. Due to its simple design, this arrangement is the first one among 12 different designs in the curriculum of
Fresh Flower Arrangement Elementary Course
. Although the shape is simple and looks easy to make, it can have variations by changing the color, type of flowers and size as well. Therefore as far as they are made with a high level of craftsmanship (or "craftswomanship"), even all round arrangement can be well used for a big party such as weddings and birthday etc.
Needless to say it is quite enough for the display for interior home decoration. Thus even for entry level of students, making this basic arrangement can be well enjoyed.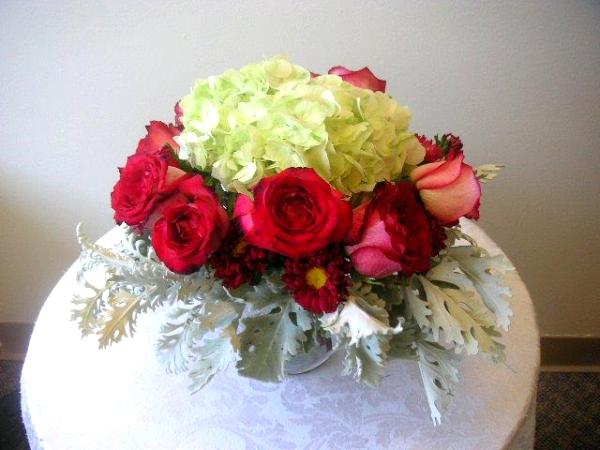 Quite frankly speaking, students should not proceed to the next level of arrangement UNLESS they can make all round flower arrangement. Quite fortunately we did not find any students who cannot make this basic arrangement at the Elementary Course.
After all round arrangement, students are scheduled to learn triangle, vertical, oval and diamond arrangement as well as S shaped and L shaped designs PLUS wearable arrangement such as corsage and bouquet (all together 12 designs) in the Elementary Course. Some of them are asymmetrical arrangement which MAY need more careful attention.
Before starting to take lessons of the Elementary Course, some people MAY imagine that this course is too basic and MIGHT sound boring. However once they start learning various arrangement in this course their "concern" is totally gone. Some of them comment the level of this course COULD be intermediate or even advanced course level because other schools seldom teach asymmetrical design. If you have completely mastered basic designs per this course, you can enjoy making home decoration with your own floral designs.
If you are interested in learning flower arrangement, we can help. There is a
Wide Range of Programs
that are offered all year long.
Weekend Class
and
Evening Lesson
are also available. For more information, please contact info@california-academy.com


Be the first to post a comment.

California Flower Art Academy
has been engaged in teaching a wide range of floral designs in the San Francisco Bay Area and Silicon Valley (San Jose) since 1990 as a floral school certified by Flower Decorators Association (Tokyo Japan). We offer hands on training of ONE ON ONE instructions (semi private lessons) which greatly help entry level students easily and quickly earn a decent level of skills. If you are looking for a reliable floral arrangement instructors or floral design school offering quality classes with cheap, inexpensive and affordable tuition in the San Francisco Bay Area (San Mateo County) or Silicon Valley (San Jose, Santa Clara County), why not join
California Flower Art Academy
? We help you make a difference in floral art.
RSS
|