Click on photos to enlarge the size. These photos show Infiorata Festivals in Italy. The surface of street is covered with petals and it looks like a carpet is placed on the street. Source of these photos is
italian ways
(www.italianways.com). According to
italy magazine
(italymagazine.com), there are three big Infiorata Festivals in Italy. They are held in Noto, Genzano and Spello. Genzano is located in the suburbs of Rome and the festival over there is pretty well known.
This is a festival that takes place every single year. Many of local artists participate in this festival to cover the surface of street (via Belardi) with flower carpets.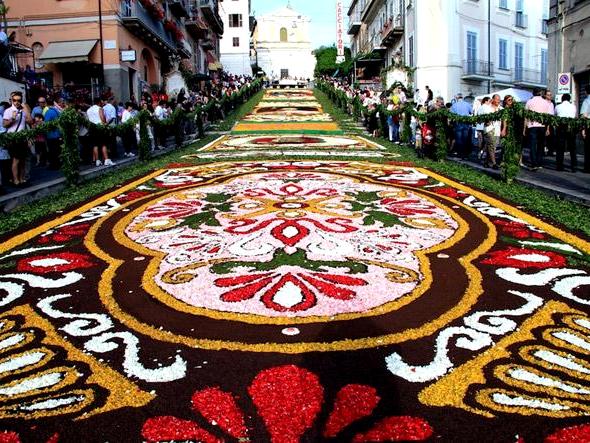 Most of pictures drawn with petals on the street are from religious paintings and famous artworks. Infiorata usually starts with harvesting milions of flowers several hours before the event begins. Harvested flowers must be stored in good conditions to keep them fresh while the local artists draw their masterpieces on the pavement of Via Belardi (Belardi Street).
This flower festival began back in 1778 when some citizens decorated part of the street to celebrate Corpus Domini Parade. You can see how this festival is held and understand its atmosphere by viewing
THIS VIDEO on YouTube
..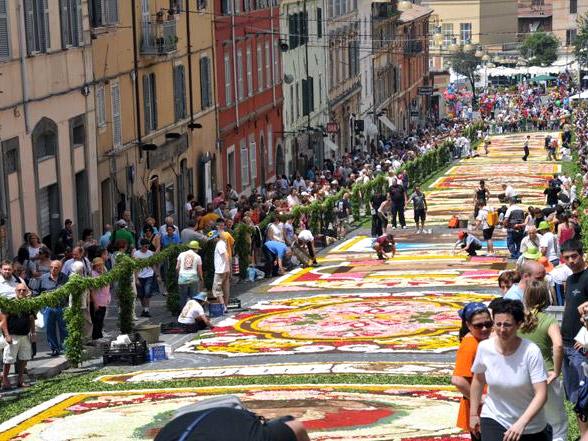 Recently we can find
similar festivals even in Japan
. However its scale and the level of arts is much behind compared with Italian infiorata.
California Flower Art Academy
is pleased to introduce various floral designs as well as world's famous sight seeing spots where we can enjoy flower festivals and also beautiful scenery of natural flowers.
If you love flowers and have interest in learning fresh flower arrangements, we can help. You can pick up your most favorite course from a
Wide Range of Programs
we offer.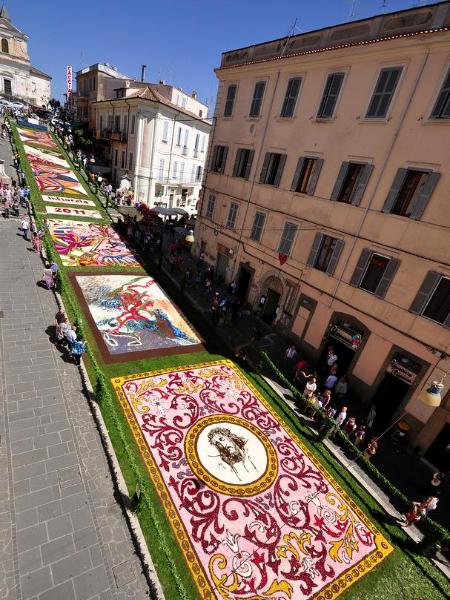 For those who have never learned floral designs, we offer under mentioned programs:
A. Japanese traditional floral art:
B. European floral arrangement:
If you have a full time job which does not allow you to attend weekday and daytime lessons, you can join
Weekend Class
and
Evening Lesson
which are offered every week in San Jose (Santa Clara County: Silicon Valley) and also Burlingame (close to San Francisco Airport).
If you already have a basic skill of fresh flower arrangement and believe you can skip above mentioned Elementary Course, you COULD join following programs:
Fresh Flower Arrangement Intermediate Course
Wedding Party Flower Arrangement Basic Course
California Flower Art Academy has been operating since 1990 as a floral school certified by Flower Decorators Association (Tokyo, Japan). For more information, please contact info@california-academy.com
Here is YouTube video introducing Genzano di Roma - Infiorata 2009 "Lo Spallamento". Source of this video is
Maurizio Pozzi
.


Be the first to post a comment.

California Flower Art Academy
has been engaged in teaching a wide range of floral designs in the San Francisco Bay Area and Silicon Valley (San Jose) since 1990 as a floral school certified by Flower Decorators Association (Tokyo Japan). We offer hands on training of ONE ON ONE instructions (semi private lessons) which greatly help entry level students easily and quickly earn a decent level of skills. If you are looking for a reliable floral arrangement instructors or floral design school offering quality classes with cheap, inexpensive and affordable tuition in the San Francisco Bay Area (San Mateo County) or Silicon Valley (San Jose, Santa Clara County), why not join
California Flower Art Academy
? We help you make a difference in floral art.
RSS
|