All these arrangements are from the classroom of our floral design school. Are you tired of conventional or orthodox flower arrangements ? Are you looking for something new in floral designs ? Are you interested in learning unconventional floral arrangements. Do you feel like challenging to make a contemporary flower designs ? If your answer is "Yes" to one of above questions, the information below MIGHT be interesting to you.
California Flower Art Academy
has been teaching both European arrangements and Japanese traditional Ikebana since its foundation back in 1990. Our managing director started to learn Ikebana when she was at a high school. After learning Ikebana for several years, she got official certification of Ikebana instructor.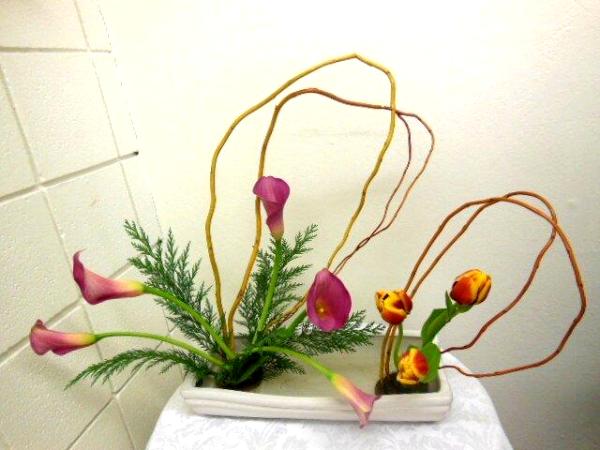 During 1980's European floral art was introduced in Japan. This took place approximately 25 years after she began to learn Ikebana. Then she started studying and learning European floral art in addition to Ikebana back in 1980's. She got an official instructor's certification on both Ikebana and European arrangement long time ago. Currently she is engaged in teaching both European and Japanese floral art in California by establishing a floral design school in the San Francisco Bay Area and Silicon Valley. Her long term experience in teaching floral designs for more than 35 years now greatly helps her educate people who would like to earn practical flower arranging skills.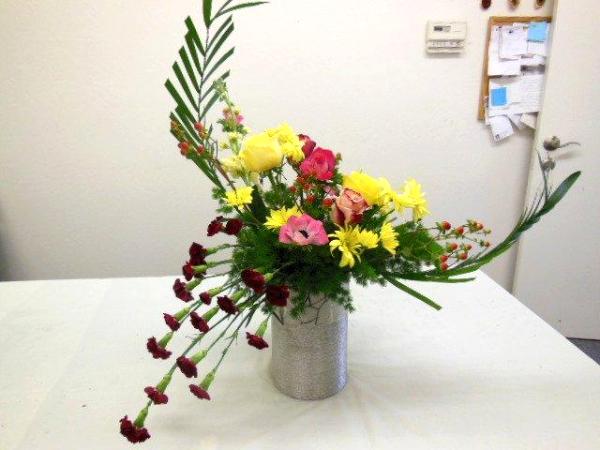 If we take a look at the current world of floral art, we feel that the border between Japanese floral art and western style flower arrangement is much smaller than before. Especially after the internet was introduced, everybody can access to a variety of designs available all over the world. This makes it possible to make a kind of new trend of floral art that is created by blending Japanese and western style of floral arrangements. As a matter of fact, we can now find contemporary floral arrangements created by some artists who are familiar with both Japanese and western style of floral art. Floral arrangement is a very profound art that requires very sensitive and detail oriented skills.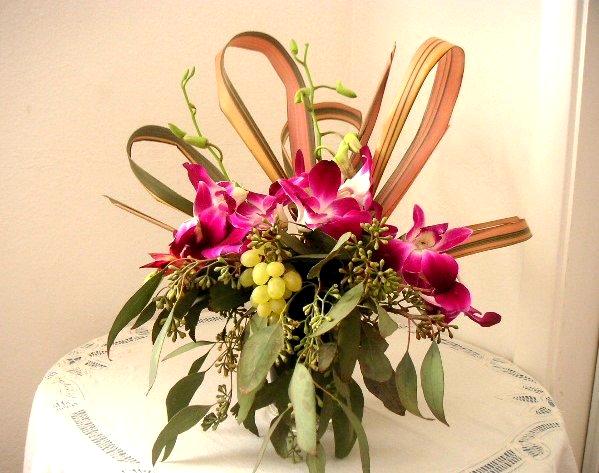 No matter whether you already have a flower arranging skill or not, if you are looking for a new trend of floral art,
California Flower Art Academy
can help.
Our Wide Range of Programs
will help you choose your most favorite program. For those who have no previous experience in floral art, we recommend following programs:
For more information, please contact info@california-academy.com
Here is YouTube video introducing Plaited Palm Arrangement. The source of this video is
Gill McGregor
. Demonstrator is
Gill McGregor
, Floral Designer & Flower Arranging Teacher.


Be the first to post a comment.

California Flower Art Academy
has been engaged in teaching a wide range of floral designs in the San Francisco Bay Area and Silicon Valley (San Jose) since 1990 as a floral school certified by Flower Decorators Association (Tokyo Japan). We offer hands on training of ONE ON ONE instructions (semi private lessons) which greatly help entry level students easily and quickly earn a decent level of skills. If you are looking for a reliable floral arrangement instructors or floral design school offering quality classes with cheap, inexpensive and affordable tuition in the San Francisco Bay Area (San Mateo County) or Silicon Valley (San Jose, Santa Clara County), why not join
California Flower Art Academy
? We help you make a difference in floral art.
RSS
|