Both of these floral decorations are asymmetrical arrangements designed for home or office interior decorations. They were made by our students under the instructions of our floral design teacher during real lessons in the classroom of
California /Flower Art Academy
. Training at our floral school makes it possible for our students to make such floral designs even if they had no previous experience when they started taking lessons. These designs are good for the display for interior home decoration as well as office arrangements.
Due to its small size, they can be displayed on the console or dining table at home OR on the receptionist or cashier's counter in the office. By the time they complete
Fresh Flower Arrangement Elementary Course
, they become familiar with various asymmetrical arrangements such as S shaped, L shaped etc in addition to simple all round designs as well as wearable arrangement like a bouquet and corsage etc. In spite the title of this entry level program is Elementary Course, what they learn is diversified and students never feel bored.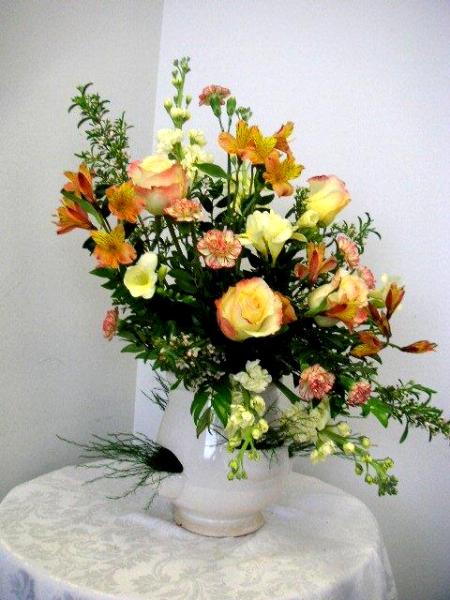 They learn 12 types of designs in total by the time they complete Fresh Flower Arrangement Elementary Course designed for learning basic European arrangements. This means if they fully mastered all 12 types designs and make reasonable practices at home, they can become able to make simple and easy floral arrangements for home decorations.
After completing the Elementary Course, some students stop taking any more lessons because they want to take a break or don't have enough fund to continue lessons. Some people proceed to a higher level of program called
Fresh Flower Arrangement Intermediate Course
. Some people who want to learn for doing floral business proceed to business oriented programs mentioned below:
For more information, please contact info@california-academy.com
Here is YouTube video introducing Floral Certification Triangle Arrangement Tutorial. Source of this video is
Heather Seelye.
Presenter is
Kristen Stockard
, Instructor/Texan Flowers Facilitator


Be the first to post a comment.

California Flower Art Academy
has been engaged in teaching a wide range of floral designs in the San Francisco Bay Area and Silicon Valley (San Jose) since 1990 as a floral school certified by Flower Decorators Association (Tokyo Japan). We offer hands on training of ONE ON ONE instructions (semi private lessons) which greatly help entry level students easily and quickly earn a decent level of skills. If you are looking for a reliable floral arrangement instructors or floral design school offering quality classes with cheap, inexpensive and affordable tuition in the San Francisco Bay Area (San Mateo County) or Silicon Valley (San Jose, Santa Clara County), why not join
California Flower Art Academy
? We help you make a difference in floral art.
RSS
|