This photo shows a centerpiece decoration for a wedding party guest table. This arrangement was designed and made by one of our students who graduated from
California Flower Art Academy
. The photo was taken at the place of wedding party.
In addition to regular flower arrangement courses, we offer a variety of wedding programs as introduced below:
If you are planning to learn wedding floral arrangements, it is mandatory for you to earn basic floral design skills. In order for us to support people who have no basic skills, we recommend
Fresh Flower Arrangement Elementary Course
where you are trained to earn basic skills of fresh flower arrangements.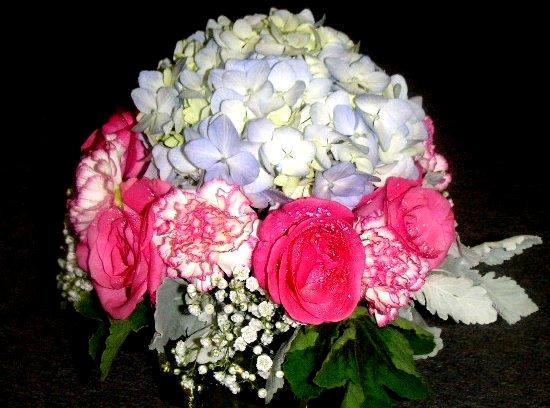 After completing this Elementary Course, you qualify to proceed to Wedding Related Flower Courses and also wedding flower short programs as introduced in the above. Among students, some people want to jump to a higher level of program by skipping Fresh Flower Arrangement Elementary Course. However if this course is skipped, not only students but also our instructors do have a hard time to do a lesson.
If you really want to earn a reasonable flower arranging skill, it is mandatory to master the basics of fresh flower arrangement, without which you can never expect to make any further development and improvement. For more information, feel free to contact info@california-academy.com
Here is YouTube video introducing 9 Modern Wedding Centerpieces. Source of this video is
The Knot
. For more information from The Knot, visit another site by
CLICKING HERE
.


Be the first to post a comment.

California Flower Art Academy
has been engaged in teaching a wide range of floral designs in the San Francisco Bay Area and Silicon Valley (San Jose) since 1990 as a floral school certified by Flower Decorators Association (Tokyo Japan). We offer hands on training of ONE ON ONE instructions (semi private lessons) which greatly help entry level students easily and quickly earn a decent level of skills. If you are looking for a reliable floral arrangement instructors or floral design school offering quality classes with cheap, inexpensive and affordable tuition in the San Francisco Bay Area (San Mateo County) or Silicon Valley (San Jose, Santa Clara County), why not join
California Flower Art Academy
? We help you make a difference in floral art.
RSS
|