Click on photos to enlarge the size. These Ikebana arrangements were made by our students under the directions of our Ikebana Instructor during real lessons in the classroom of
California Flower Art Academy
. We offer various Ikebana programs as mentioned below:
REMARKS: We do not offer Ikebana Arrangement Instructor Course. None of our Ikebana courses is designed for training students to become Ikebana Instructor.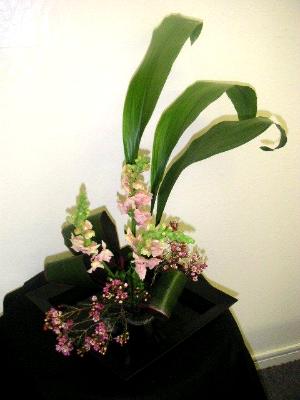 People who learn Ikebana in the United States don't learn for doing business (such as running a floral shop, offering floral decorating services for weddings or funerals) but strictly for hobby. Many of them are interested in Japanese culture. Some limited number of people already have a skill of western style designs and would like to learn another kind of floral art that is Ikebana.
For those who are already familiar with western arrangement (such as American or European design), learning Ikebana MAY provide clues for creating a new style of arrangement by adopting Ikebana style decoration into western arrangement. Those who have no experience in Ikebana usually start from
Moribana
arrangement.
Moribana is arranged in
Suiban
. The stems of flowers and plants are inserted onto needles installed on the iron plate that is called
Kenzan
. The arrangements per the first and second photo are Moribana. The first arrangement is often learned by entry level of student who join the Elementary Course.
The fourth arrangement is what is called
Nageire
that is arranged in a tall cylindrical container without using Kenzan. Nageire is usually more difficult than Moribana. Therefore we usually teach Nageire only after students learned Moribana. While the majority of Japanese young women recently prefer European arrangement to Ikebana, many people outside of Japan are interested in Ikebana.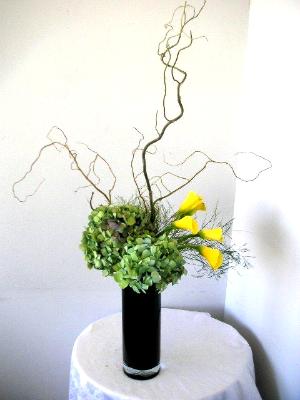 There are so many floral artists in Japan. Many of floral arrangement instructors who teach European arrangements originally started from Ikebana when they were young. After European arrangement was introduced in Japan (during 1980's), they learned European style designs. Only because they were Ikebana instructors who have solid foundation about floral arrangement, they easily and quickly mastered European arrangements.
This situation greatly helped European arrangement to have quickly spread all over Japan. If you are interested in learning Ikebana arrangement, why not join California Flower Art Academy ? For more information, please contact info@california-academy.com


Be the first to post a comment.

California Flower Art Academy
has been engaged in teaching a wide range of floral designs in the San Francisco Bay Area and Silicon Valley (San Jose) since 1990 as a floral school certified by Flower Decorators Association (Tokyo Japan). We offer hands on training of ONE ON ONE instructions (semi private lessons) which greatly help entry level students easily and quickly earn a decent level of skills. If you are looking for a reliable floral arrangement instructors or floral design school offering quality classes with cheap, inexpensive and affordable tuition in the San Francisco Bay Area (San Mateo County) or Silicon Valley (San Jose, Santa Clara County), why not join
California Flower Art Academy
? We help you make a difference in floral art.
RSS
|