These floral arrangements were designed and made by our students under the directions of floral design instructor during real lessons in the classroom of California Flower Art Academy. If you are trained at our school, you will earn practical floral arranging skills to make these kind of designs. When running business, it is ideal to have two types of items/services that can compensate the loss each other and brings effective risk management. When one side business slows down, the other side of business can compensate the loss of another business. If the business is run in this way, the operation is pretty stabilized.
For example, if you are engaged in the business of exporting goods from USA to foreign country such as Japan, this business slows down when US dollar gets stronger against Japanese currency (Yen). However the business of importing goods from Japan to USA becomes more profitable in this kind of situation. Therefore large scale trading house is engaged in both export and import business, which is quite effective for risk management and contributes to stabilizing their business.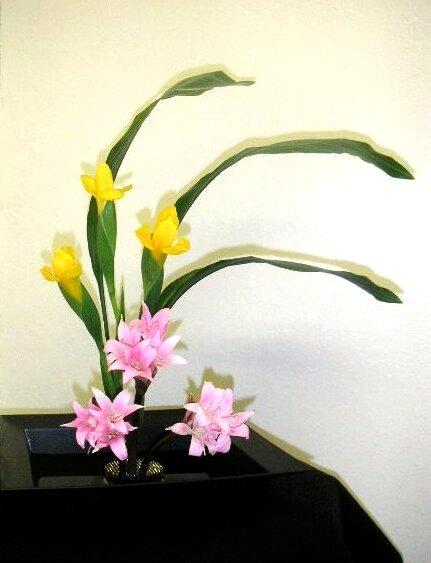 Floral business is not exceptional in this sense. If a floral shop offers both wedding and funeral floral decorating services, both of such decorating services COULD compensate each other. Namely wedding flower business slows down during winter season. However in such season funeral decoration business is busy. This is because lots of old people are apt to pass away during winter season. In case of offering floral design classes, if the class teaches American (or European) floral arrangement and also Japanese Ikebana, the class is better stabilized than teaching only American arrangement (or only Ikebana arrangement).
California Flower Art Academy teaches floral arrangement and also what is called European 3D decoupage that is called "Shadowbox Art" in Japan. And some of our graduates offers classes of European floral arrangement and also 3D Decoupage art in Japan. This way of class operation contributes to stabilizing their business. California Flower Art Academy offers a
Wide Range of Programs
from European floral arrangement to Japanese Ikebana and European Decoupage art. If you are interested in learning at our school, please contact info@california-academy.com


Be the first to post a comment.

California Flower Art Academy
has been engaged in teaching a wide range of floral designs in the San Francisco Bay Area and Silicon Valley (San Jose) since 1990 as a floral school certified by Flower Decorators Association (Tokyo Japan). We offer hands on training of ONE ON ONE instructions (semi private lessons) which greatly help entry level students easily and quickly earn a decent level of skills. If you are looking for a reliable floral arrangement instructors or floral design school offering quality classes with cheap, inexpensive and affordable tuition in the San Francisco Bay Area (San Mateo County) or Silicon Valley (San Jose, Santa Clara County), why not join
California Flower Art Academy
? We help you make a difference in floral art.
RSS
|