Click on the photos to enlarge them. These are the design called
Crescent Arrangements
made by our students under the instruction of our teacher at the classroom. In this arrangement, you can find tropical flowers and various kinds of greenery elements. The arrangement is made in a vertical transparent container. Since the way of taking a photo was not so good (looks like flash was not used), the color of natural elements does not appear so well. However this photo helps you understand what crescent arrangement is.
Crescent arrangement is often found in Japanese traditional floral art called Ikebana that often uses curved element to appeal the beauty of natural graceful lines.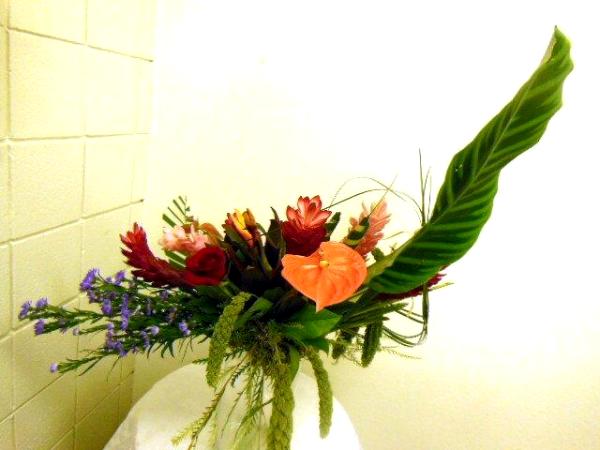 This arranging method can be found in western style arrangement (European and American design) as well. As the world of floral art is getting smaller especially after the internet technology was introduced, everybody can access to another country's culture quite easily. This makes people of all over the world affect each other on their culture. Floral design is not exceptional.
Between Ikebana and western style arrangement, currently the border is less clear as used to be in some areas of arrangements. Floral artists familiar with European and Japanese way of arrangements have no difficulties for making this kind of design. California Flower Art Academy offers programs for European floral arrangement and also Japanese Ikebana art.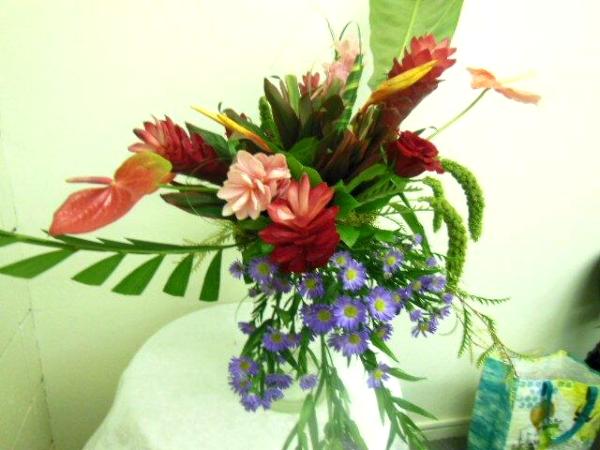 From our Wide Range of Programs, our students can choose their most favorite course depending on their taste and budget. If you love flowers and have interest in learning fresh flower arrangements, California Flower Art Academy can help. We have been operating in the San Francisco Bay Area and Silicon Valley since 1990 when we were founded. Since then we have been teaching a variety of floral designs as a floral school certified by Flower Decorators Association. For those who have no experience in floral arrangement, we offer short program to enjoy a trial lesson as mentioned below:
Any questions, contact info@california-academy.com
Among so many video presentations uploaded on YouTube, we tried to find a video introducing Crescent Floral Arrangement in vain. The video uploaded here shows a variety of Ikebana arrangements made by Sogetsu School (who is one of leading Ikebana organizations) focusing on Winter Arrangement. The source of this video is
Ikebana with Ping
.


Be the first to post a comment.

California Flower Art Academy
has been engaged in teaching a wide range of floral designs in the San Francisco Bay Area and Silicon Valley (San Jose) since 1990 as a floral school certified by Flower Decorators Association (Tokyo Japan). We offer hands on training of ONE ON ONE instructions (semi private lessons) which greatly help entry level students easily and quickly earn a decent level of skills. If you are looking for a reliable floral arrangement instructors or floral design school offering quality classes with cheap, inexpensive and affordable tuition in the San Francisco Bay Area (San Mateo County) or Silicon Valley (San Jose, Santa Clara County), why not join
California Flower Art Academy
? We help you make a difference in floral art.
RSS
|