All these arrangements are vertical arrangements. These were designed and made by our students under the instruction of our flower arranging teacher during real lessons in the classroom of California Flower Art Academy. As far as your arranging skill is poor, you cannot develop your skill and any improvements cannot be expected without any effective advice and instructions by a well experienced instructor. Namely if your flower arranging skill remains lousy, you have no possibilities of making your skill better. The reason behind this is that you have never learned flower arrangement and you have not yet earned a basic design skill. As long as you stick to your own way of arranging without taking lessons, you cannot escape from a vicious cycle.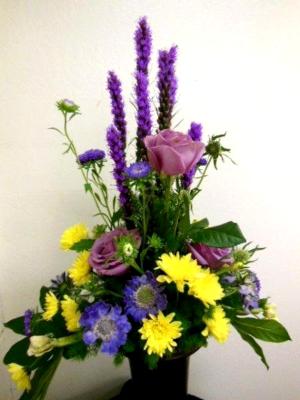 On the other hand, people who mastered basics in floral designs and earned a decent fundamental skill by taking lessons have a bright future. Namely once they earned a good fundamental skill, they can develop and enhance their skills because their skill level has already reached a level where they can digest lots of information, instructions as well as advice and suggestions available on the internet. Of course if you take further lessons, you can earn even higher level of skills quite easily. As you know, there are tons of floral artists and floral designers who are trying to make a difference in their performance. In this kind of circumstances, if you would like to win the competitions, you need to offer outstanding designs OR something attractive that cannot be offered by your competitors.
People who have a decent flower arranging skills have ability of digesting and making the best use of various information available on the internet, which is another reason why we recommend them to take lesson of floral designs. We believe lots of people are aware of what is mentioned in the above. While the majority of people do not take any concrete actions for making a difference, some limited number of people who are task oriented take a positive action in order to earn a better skill and also expand their design portfolio. To summarize what is mentioned above, once a good skill is earned, there are lots of possibilities of making further improvements on their skills and expanding the portfolio on floral designs. California Flower Art Academy is more than happy to help you make a difference in floral art.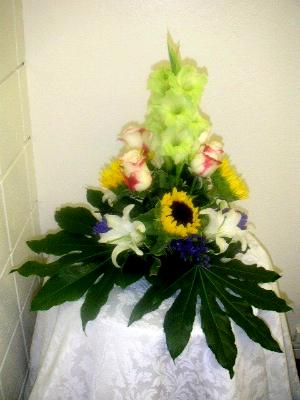 If you love flowers and seriously want to earn a good floral design skill, why not join California Flower Art Academy ? You can learn floral arrangement by way of hands on training of ONE ON ONE instructions (semi private lesson) which is quite important for earning a good skill. Visit the page of our Wide Range of Programs and make a choice of your favorite program considering your budget, taste and goal for learning flower arrangements. For those who have no previous experience, we recommend following programs:
Introductory Trial Budget Program
Fresh Flower Arrangement Elementary Course
For more information, please contact info@california-academy.com


Be the first to post a comment.

California Flower Art Academy
has been engaged in teaching a wide range of floral designs in the San Francisco Bay Area and Silicon Valley (San Jose) since 1990 as a floral school certified by Flower Decorators Association (Tokyo Japan). We offer hands on training of ONE ON ONE instructions (semi private lessons) which greatly help entry level students easily and quickly earn a decent level of skills. If you are looking for a reliable floral arrangement instructors or floral design school offering quality classes with cheap, inexpensive and affordable tuition in the San Francisco Bay Area (San Mateo County) or Silicon Valley (San Jose, Santa Clara County), why not join
California Flower Art Academy
? We help you make a difference in floral art.
RSS
|