These floral arrangements were designed and made during real lessons in the classroom of
California Flower Art Academy
. Arrangements were done under the directions of our flower arrangement instructor. Regardless of type of arts, sports and skills, there is a big difference between professionals and amateurs. Professionals are earning income by way of using their skills. However amateurs are using their skills not for making money but for enjoying themselves.
Take baseball players for instance, professional players are showing their games to spectators and spectators pay money for enjoying a game. Take singers for instance, professional singers sing songs in front of lots of audiences and audiences pay money for enjoying seeing pro singers singing a song.
No matter what kind of skill or area, amateurs usually cannot beat professionals only because there is a big difference in skills. Floral design is not exceptional.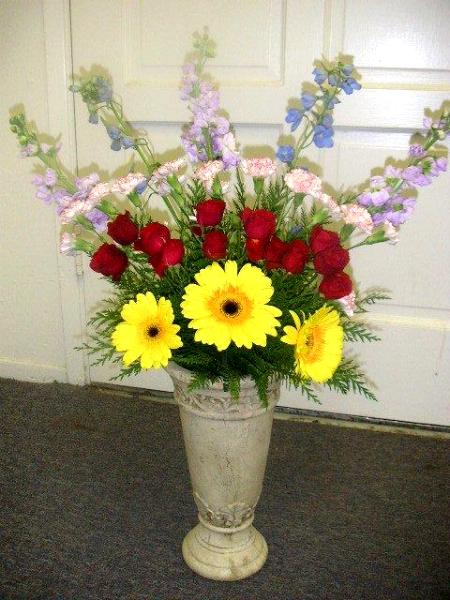 The typical amateur people are students who recently started learning flower arrangements. Most of them can follow the instructions and directions of their instructor and they can make arrangements similar to the one designed and made by their instructors.
Take our students for instance they can "duplicate" the floral arrangements designed and made by our instructor during a lesson in the classroom BECAUSE our instructor teach them by way of hands on training of ONE ON ONE instructions (semi private lesson). Can students repeat duplicating the same design without any assistance by instructor after getting back home ? If they diligently review and practice at home, they can do so. Therefore we recommend them to review what they learned and practice making the same design after getting back home before they forget.
For this purpose, they are always recommended to bring a notebook and also digital camera to the classroom. The photos they take during a lesson help them review and practice at home.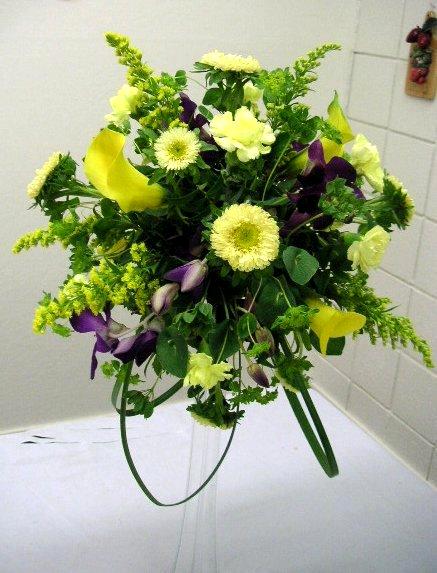 In short typical amateur floral artists can make flower arrangements with a help of somebody who is well experienced or with instruction manual and information from books etc.
Many of beginner students cannot make the similar designs even with instruction manual because of lack of experience. How about well experienced students ? They have already earned various skills and spent lots of time for learning floral designs. Therefore the skill level is different that of beginners and also a lot of know how, secrets and design portfolio have been accumulated in their library, which greatly help them do much better job than beginner students.
On the internet, you can find tons of information introducing various floral designs that are available on websites and YouTube videos specializing in the demonstration of a variety of floral designs. Professional floral artists can very quickly digest such information and easily make similar designs, which is no big deal. Some professionals can make a better or even more creative designs by getting a hint and suggestion from the internet information.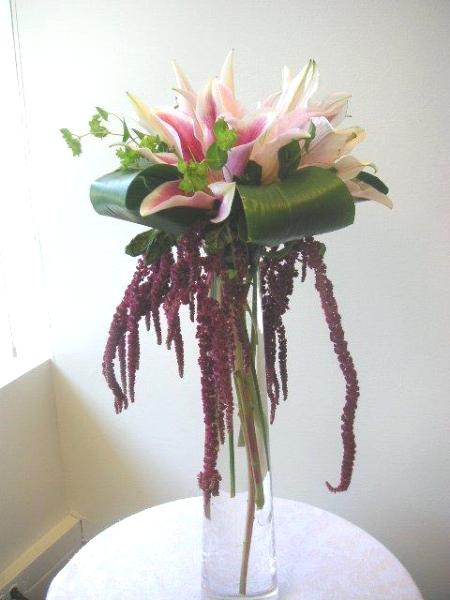 The bottom line is professional floral artists have abilities, know how, secret and skills for digesting various information from internet and books, which is the big difference compared with amateur floral artists. In order for you to reach this level, you are required to spend lots of time, money and make practice. Therefore your eventual goal MAY becoming a professional floral artist but for the time being you are recommended to be a well experienced floral artist who can do the job close to professional artist.
California Flower Art Academy
is pleased to train you so that you can be an active floral designer. If you are trained and practice diligently, you can definitely earn a good flower arranging skill. The majority of our students have no previous experience before joining our school. Nevertheless many of them successfully earned a decent skill. From our Wide Range of Programs, you can pick up your favorite program (or course) by well considering your budget, taste and goal for learning flower arrangements, For those who have no experience, we recommend under mentioned programs:
A. European arrangement:
B. Japanese traditional floral art:
For more information or questions, please contact info@california-academy.com
Here is YouTube video introducing How to Keep Tall Centerpieces from Falling. Source of this video is
ehowweddings
. Demonstrator is Angie Zimmerman, Floral Designer from floweraranging101.tv.


Be the first to post a comment.

California Flower Art Academy
has been engaged in teaching a wide range of floral designs in the San Francisco Bay Area and Silicon Valley (San Jose) since 1990 as a floral school certified by Flower Decorators Association (Tokyo Japan). We offer hands on training of ONE ON ONE instructions (semi private lessons) which greatly help entry level students easily and quickly earn a decent level of skills. If you are looking for a reliable floral arrangement instructors or floral design school offering quality classes with cheap, inexpensive and affordable tuition in the San Francisco Bay Area (San Mateo County) or Silicon Valley (San Jose, Santa Clara County), why not join
California Flower Art Academy
? We help you make a difference in floral art.
RSS
|