Students who learned Ikebana at California Flower Art Academy can enjoy making and displaying Ikebana arrangements anytime they like all year long. This can be said not only for Ikebana learning students but also European flower learning students. No matter what kind of floral designs they learn, once they earned a reasonable level of arranging skills, they can use such skill at any time they like. In December, there are opportunities of holding a home and office party. When it comes to Christmas, many families hold a home party their family members join and also many of companies hold Christmas party (or year end party) when employer and employees get together for enjoying having a wonderful time.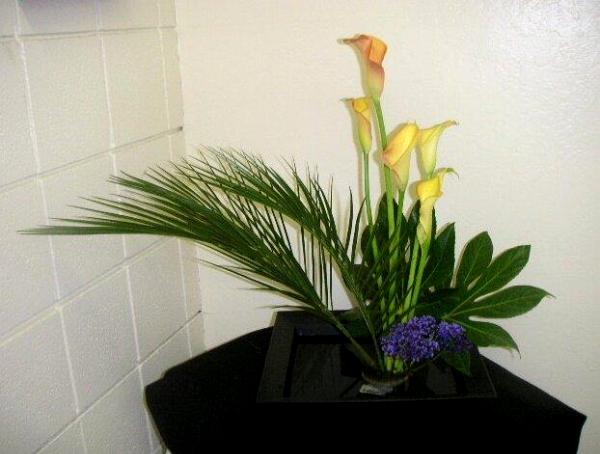 People who are familiar with floral designs can make the best use of their flower arranging skills at the time of such parties. How about displaying Ikebana arrangement at a party this year ? As you MIGHT know, Ikebana arrangement offers atmosphere which is different from regular floral arrangement. The attendees to the party will be impressed with Ikebana arrangement they find for the first time. California Flower Art Academy offers various kinds of Ikebana classes from introductory to advanced level. We teach Ikebana step by step with hands on training of ONE ON ONE instructions. Each student can be well taken care of by our instructor because we limit number of students to no more than 4 per class whereby we can implement semi private lessons.
If you are interested in Ikebana and would like to learn or experience Ikebana, we can help. For those who have no experience in Ikebana arrangement, we offer following programs:
Ikebana Short Seminar Program
: Enjoy a nice experience of Ikebana arrangement spending about 2.5 hours. You can learn 2 types of basic Ikebana arrangement.
Here is YouTube video introducing Ikebana arrangement. The source of this video is
Ikebana Beautiful
.


Be the first to post a comment.

California Flower Art Academy
has been engaged in teaching a wide range of floral designs in the San Francisco Bay Area and Silicon Valley (San Jose) since 1990 as a floral school certified by Flower Decorators Association (Tokyo Japan). We offer hands on training of ONE ON ONE instructions (semi private lessons) which greatly help entry level students easily and quickly earn a decent level of skills. If you are looking for a reliable floral arrangement instructors or floral design school offering quality classes with cheap, inexpensive and affordable tuition in the San Francisco Bay Area (San Mateo County) or Silicon Valley (San Jose, Santa Clara County), why not join
California Flower Art Academy
? We help you make a difference in floral art.
RSS
|