All these arrangements were made by our students under the directions of our floral arrangement instructor during real lessons in the classroom of California Flower Art Academy. As the title of this page says, easy and simple design is the best for home decorations in a sense although difficult and high end arrangements are also attractive. As far as home flower arrangement is concerned, it is better to satisfy the following conditions:
A. Simple and easy to make
B. Materials fee should be affordable.
C. It should not be time consuming
If above conditions are satisfied, it is not a big deal to do floral arranging in our daily life. Whenever we have a free time, we can easily make floral designs for the decorations of our home. In order to satisfy above conditions, some of important factors are quantities of flowers and the size of design. If the size of arrangement is not very big, we can minimize the cost for flowers, plants and container etc. Also we can have much broader range of selection of the space where we can display at home. Incidentally in relation to the size of arrangement, one of the biggest reasons why we cannot make a big design (such as the ones for corporate decorations or hotel lobby arrangement) in the classroom is financial reason as follows: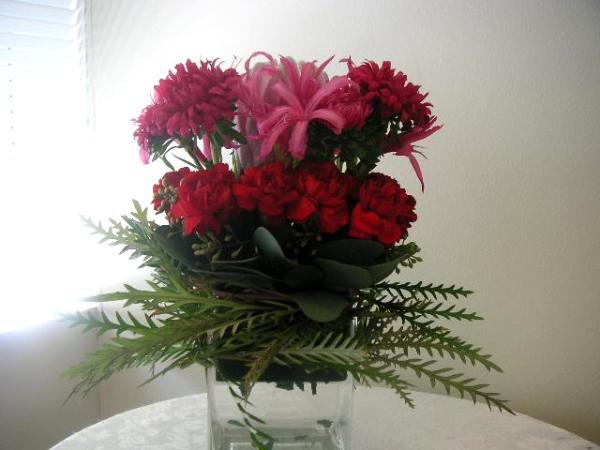 We should minimize the lesson fee in order for our students not to suffer from heavy financial burden. Due to recent sharp increase of commodity prices in the States, prices of flowers, office and classroom rent have been raised. In order to keep the lesson fee as reasonable as possible, we have been doing our best. If you are interested in learning floral designs from well experienced instructors at a reasonable price, we can help. Those who have no experience are recommended to join following programs:
Introductory Trial Budget Program
Fresh Flower Arrangement Elementary Course
For more information, please contact info@california-academy.com
Here is YouTube video introducing Easy Flower Arrangements. Source of this video is
My Well-Being presented by Humana
. Presenter is Jenny Steffens Hobbic, My Well-Being Entertainment Expert.


Be the first to post a comment.

California Flower Art Academy
has been engaged in teaching a wide range of floral designs in the San Francisco Bay Area and Silicon Valley (San Jose) since 1990 as a floral school certified by Flower Decorators Association (Tokyo Japan). We offer hands on training of ONE ON ONE instructions (semi private lessons) which greatly help entry level students easily and quickly earn a decent level of skills. If you are looking for a reliable floral arrangement instructors or floral design school offering quality classes with cheap, inexpensive and affordable tuition in the San Francisco Bay Area (San Mateo County) or Silicon Valley (San Jose, Santa Clara County), why not join
California Flower Art Academy
? We help you make a difference in floral art.
RSS
|