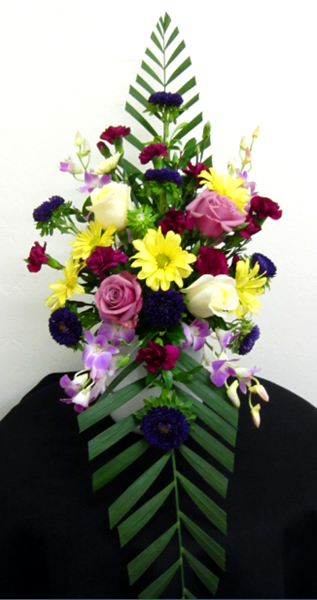 Click on photos to enlarge the size. Both floral arrangements were designed and made by our students under the directions of our instructor during real lessons in the classroom of
California Flower Art Academy
. These are good for displaying as an entry arrangement that can be placed in the foyer for home decoration.
Even if you have no previous experience in flower arranging, taking lessons at our school will greatly help you earn a decent skill for making these kinds of floral designs. As far as you diligently follow instructions of our flower arranging teacher and make reasonable practice at home, it is no big deal for you to be a good flower designer.
We teach each student by way of semi private lesson (based on hands on training of ONE ON ONE instructions). Therefore each student can be well taken care of by our instructor. Number of students per class will never exceed 4 (Typically only 2 to 3 students per class or per instructor). Once you have earned a floral design skill, it will become your lifetime property and you can enjoy floral art for the rest of your life.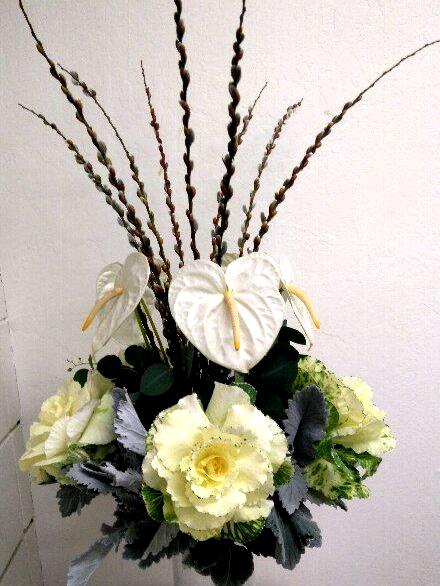 For those who would like to earn floral design skills for business, it is important to enhance skill and expand a design portfolio for winning severe competitions in the floral arrangement industry. If all other conditions are same, a floral designer who has a better skill and higher number of designs can be a better position to beat a competitor. In order to train floral designers of various levels,
California Flower Art Academy
offers a Wide Range of Programs that helps our students learn various kinds of arrangements. If you would like to make a difference in floral designs, we can help. For those who have no previous experience, we recommend following programs:
A. European arrangement:
B. Japanese traditional floral art:
For more information, please contact info@california-academy.com
Here is YouTube video introducing Spring Flower Arrangements. Caring for Spring Flower Arrangements. Source of this video is
expertvillage
. Demonstrator is
Julie Kay Robinson
, experienced floral designer specializing in high-end event design.


Be the first to post a comment.

California Flower Art Academy
has been engaged in teaching a wide range of floral designs in the San Francisco Bay Area and Silicon Valley (San Jose) since 1990 as a floral school certified by Flower Decorators Association (Tokyo Japan). We offer hands on training of ONE ON ONE instructions (semi private lessons) which greatly help entry level students easily and quickly earn a decent level of skills. If you are looking for a reliable floral arrangement instructors or floral design school offering quality classes with cheap, inexpensive and affordable tuition in the San Francisco Bay Area (San Mateo County) or Silicon Valley (San Jose, Santa Clara County), why not join
California Flower Art Academy
? We help you make a difference in floral art.
RSS
|