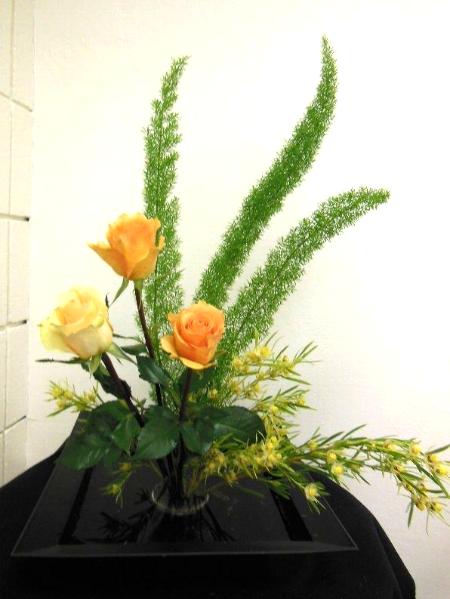 All these Ikebana arrangements were designed and made by our students under the directions of our Ikebana instructors during real lessons in the classroom of
California Flower Art Academy
. These arrangements are what we call
Moribana
that is arranged in
Suiban
that is a shallow and flat container specifically designed for Ikebana arrangement. In Suiban, we place
Kenzan
that is a needlepoint holder to hold flowers and plants. As Suiban is shallow and flat, it is easy to put Kenzan in it.
Students who are new to Ikebana usually start from learning Moribana. All these arrangements are simple yet offer a little bit different atmosphere that cannot be found in western style (European and American style) arrangement. You have under mentioned two merits in learning Ikebana arrangement:
A. Become familiar with Japanese traditional culture through Ikebana
B. Find a clue or hint for making a difference in floral art. Floral artists who already have a skill of western style flower designs can enjoy this merit.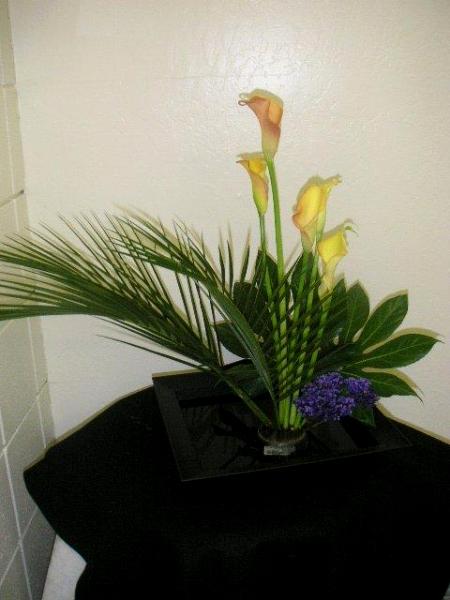 After the internet technology was introduced, everybody can easily access to foreign sites, which has been helping floral designers get a different design method and concept from all over the world. In this sense the border between Japanese Ikebana and Western Style Floral Designs has been getting thinner and thinner year by year.
As a matter of fact, floral artists who are interested in foreign floral art adopt different kind of arrangement in order to blend multiple floral designs whereby they can create new concept of floral art like no other. It looks like many of contemporary floral arrangement were born under this kind of circumstances.
If you love flowers and have interest in Japanese culture, it MAY be a good idea to learn Ikebana arrangement from which you can become familiar with some of Japanese concept and philosophy. If you are already familiar with western style floral design, learning Ikebana can help make a difference in your design portfolio.
California Flower Art Academy offers various Ikebana programs as introduced below: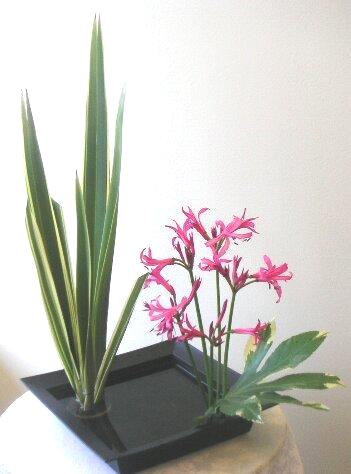 Ikebana Short Seminar Program
REMARKS: We do not offer Ikebana Arrangement Instructor Course. None of our Ikebana courses is designed for training students to become Ikebana Instructor. By clicking links below, you can enjoy viewing a variety of Ikebana arrangements made by our students under the directions of our Ikebana instructor during real lessons in the classroom.
For those who are too busy to join weekday and daytime lessons, we offer
Weekend Class
and
Evening Lesson
as well. If you have any questions about our program, please do not hesitate to contact us at info@california-academy.com We help you make a difference in floral art.
Here is YouTube video introducing Ikebana: Flower Arrangement (Japanese Documentary). Source of this video is
Art of East and West
. Corporation by Sogetsu School.


Be the first to post a comment.

California Flower Art Academy
has been engaged in teaching a wide range of floral designs in the San Francisco Bay Area and Silicon Valley (San Jose) since 1990 as a floral school certified by Flower Decorators Association (Tokyo Japan). We offer hands on training of ONE ON ONE instructions (semi private lessons) which greatly help entry level students easily and quickly earn a decent level of skills. If you are looking for a reliable floral arrangement instructors or floral design school offering quality classes with cheap, inexpensive and affordable tuition in the San Francisco Bay Area (San Mateo County) or Silicon Valley (San Jose, Santa Clara County), why not join
California Flower Art Academy
? We help you make a difference in floral art.
RSS
|