These flower arrangements were made by our students under the directions of our instructor during real lessons in the classroom of
California Flower Art Academy
. We sometimes find a certain style of arrangement called Inverted T Arrangement. However we have never heard of Regular T Arrangement. To our best knowledge, there does not exist Regular T Shaped Arrangement.
If we happen to be requested to put the name of these floral arrangements, we MIGHT say this is "Regular T Shaped Arrangement". Only because we usually do not find this kind of arrangement, these MAY be eye catching and unique designs.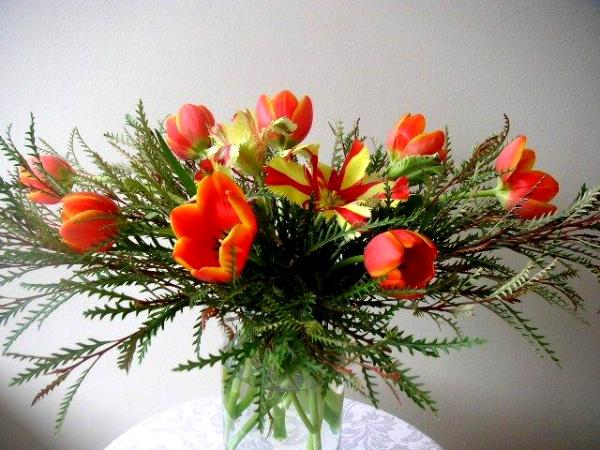 Once you have earned a decent skill, you can enjoy a wide variations of designs. While you keep a conventional way of arrangement that have its original value, you can enjoy a variety of unique floral designs as you wish. Some floral artists are quite aggressive to develop their own style of designs that COULD be called a Contemporary Floral Arrangement. If you are interested in learning floral designs, we can help. Those who have no experience are recommended to start from following
programs:
Any questions, contact info@california-academy.com


Be the first to post a comment.

California Flower Art Academy
has been engaged in teaching a wide range of floral designs in the San Francisco Bay Area and Silicon Valley (San Jose) since 1990 as a floral school certified by Flower Decorators Association (Tokyo Japan). We offer hands on training of ONE ON ONE instructions (semi private lessons) which greatly help entry level students easily and quickly earn a decent level of skills. If you are looking for a reliable floral arrangement instructors or floral design school offering quality classes with cheap, inexpensive and affordable tuition in the San Francisco Bay Area (San Mateo County) or Silicon Valley (San Jose, Santa Clara County), why not join
California Flower Art Academy
? We help you make a difference in floral art.
RSS
|