The first floral arrangement was made by our student under instruction of our flower design teacher during a real lesson in the classroom of California Flower Art Academy. The second one was made by our instructor based on the design idea of our graduate (Cary running a florist "Petals by Cary") when helping floral decoration at the big home party.
While the first one is displayed on the table in the classroom, the second one is displayed outside the house (in the garden). Although both of them are table arrangements or centerpieces, not only the shape but also the total appearance as well as the color coordination and the type of display "table" is totally different. The second one is displayed on the LANTERN.
By way of experiencing various types of table arrangements, you COULD enhance the portfolio of your floral designs and become familiar with how to make the best use of available flowers and also where to display floral arrangements.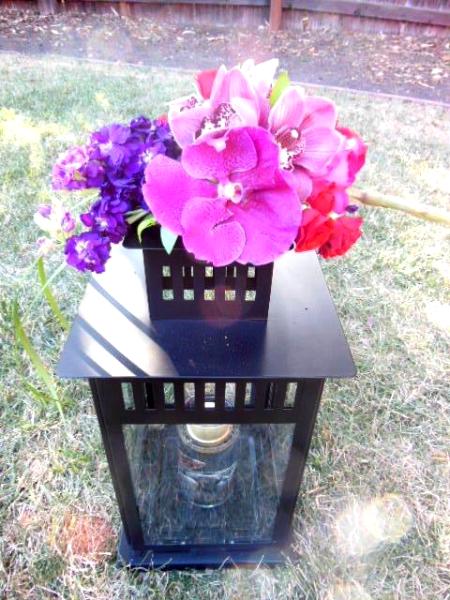 Among our students and graduates we find some people have experienced to design/make so many floral arrangements and such people usually have a pretty high level of designing skills. Our goal in teaching floral designs is for as many students to earn practical decent floral arranging skills with which they can enjoy a beautiful floral life as a hobby or succeed in running their own floral business. If you want to earn a practical flower arranging skill, we can help. Those who have no experience are recommended to join following program(s):
A. European style;
B. Japanese traditional style;
For more information, please contact info@california-academy.com
Below is a YouTube video introducing Flower Arrangements : How to Arrange a Tall Vase With Fresh Flowers presented by
David Z. Ghoukassian
, Event & Floral Designer. Video source is
essortment
. Also visit
His Website
.


Be the first to post a comment.

California Flower Art Academy
has been engaged in teaching a wide range of floral designs in the San Francisco Bay Area and Silicon Valley (San Jose) since 1990 as a floral school certified by Flower Decorators Association (Tokyo Japan). We offer hands on training of ONE ON ONE instructions (semi private lessons) which greatly help entry level students easily and quickly earn a decent level of skills. If you are looking for a reliable floral arrangement instructors or floral design school offering quality classes with cheap, inexpensive and affordable tuition in the San Francisco Bay Area (San Mateo County) or Silicon Valley (San Jose, Santa Clara County), why not join
California Flower Art Academy
? We help you make a difference in floral art.
RSS
|