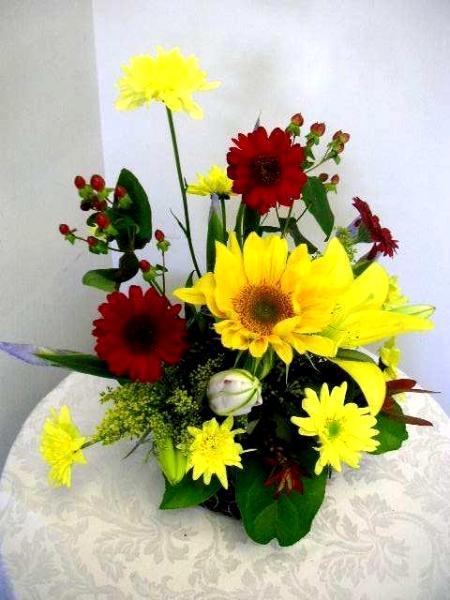 All these floral arrangements were made by our students. If you learn floral arrangements at
California Flower Art Academy
, you can earn practical skills for making these kinds of arrangements. Our unique way of hands on training of ONE ON ONE instructions greatly help you earn quickly and effectively necessary skills as a floral artist. There are sayings we like as follows:
"Art brings bread".
"Learn a Trade, for the time will come when you shall need it".
We often realize what above sayings tell us. If you have a pretty high level skill of European (or American) flower arrangement that is quite outstanding, it will help you when you have a difficult time in your life. Floral arranging skill COULD help you live a better life OR it MIGHT help you in some occasions. We know several people who contribute to the local community by way of flower arrangements. Local community in this case means a Church, Golf Club, Ethnic Organization, Sports Club, Entertainment Circle or retirement homes and offices they belong to.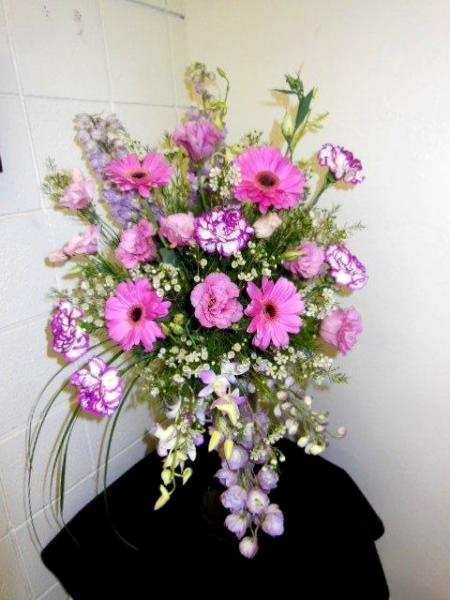 They make flower arranging decorations as an volunteer in their daily life and also at various events such as a birthday party, Thanksgiving, Christmas party etc etc. Their volunteer job is highly appreciated and many people know these volunteer artists. Sometimes they share their knowledge and skills with other people at home as a volunteer without charging any fee. Needless to say their activities are highly appreciated and in a sense they are quite influential. If the people surrounding them need them, they must be happy. It is not always necessary to donate flower arranging materials because they are pretty expensive. So if they donate their labor and time, it could be enough. People still appreciate their "donation". If you are planning to learn flower arrangements, you must know for what kind of purpose you want to earn floral design skills.
Even if these volunteer artists are not so well known, they often feel happy if they recognize they are influential in the community. No matter whether you use your skill for hobby, volunteer work or business, we are more than happy to help you earn practical skills of European floral arrangements.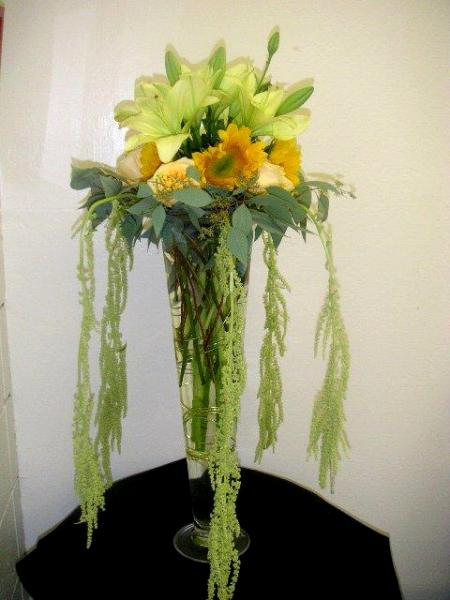 We sometimes say "We help you help others by way of floral arranging". If you are planning to help other people by using your flower arranging skills, that is wonderful. And we are proud of your job.
California Flower Art Academy
offers a
Wide Range of Programs
from which our students can choose their favorite course by well considering their budget, taste and purpose of learning flower arrangements. If you have no previous experience in floral designs, we recommend you to join under mentioned programs:
A. European arrangement:
Introductory Trial Budget Program
B. Japanese floral art;
REMARKS: We do not offer Ikebana Arrangement Instructor Course. None of our Ikebana courses is designed for training students to become Ikebana Instructor.
For those who have no time during weekdays and daytime, we offer Weekend Class and Evening Lesson as well. For more information, please contact info@california-academy.com


Be the first to post a comment.

California Flower Art Academy
has been engaged in teaching a wide range of floral designs in the San Francisco Bay Area and Silicon Valley (San Jose) since 1990 as a floral school certified by Flower Decorators Association (Tokyo Japan). We offer hands on training of ONE ON ONE instructions (semi private lessons) which greatly help entry level students easily and quickly earn a decent level of skills. If you are looking for a reliable floral arrangement instructors or floral design school offering quality classes with cheap, inexpensive and affordable tuition in the San Francisco Bay Area (San Mateo County) or Silicon Valley (San Jose, Santa Clara County), why not join
California Flower Art Academy
? We help you make a difference in floral art.
RSS
|