The first and third floral arrangements were made by our students under instructions of our flower design teachers during real lessons in the classroom of California Flower Art Academy. The second arrangements were made by our instructor for displaying at a wedding hall.
While the first and the third arrangements are designed so they are displayed for home decoration, the second one is designed for the decoration to celebrate a wedding. Therefore first and third are used for hobby and the second one is made for business purpose. As far as you are enjoying flower arrangements strictly for hobby, you don't have to worry about competition.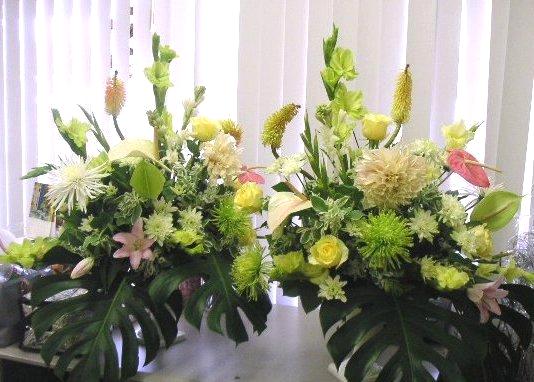 However once you make it for business, you are involved in competition no matter whether you like it or not.
In this sense you MIGHT have a headache about how to reduce a sale price to win the competition etc etc. No matter what kind of business it is , there is always competition among vendors and sellers. Floral business is not exceptional.
If the price is the same, a seller or vendor who can offer a better quality of merchandise (in this case, floral decorating service) can usually win the order.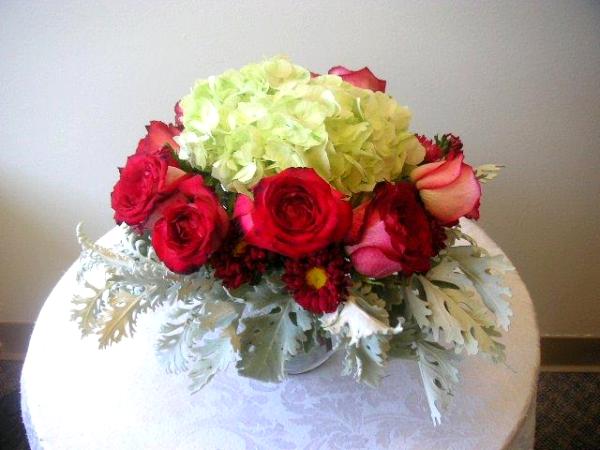 Therefore once you run a floral shop where you sell cut flowers and flower arrangements as well as floral decorating services for wedding etc., it is mandatory to reduce the cost to make arrangements and at the same time make your best efforts to increase the quality level of your product as well as offering a quicker delivery services. The bottom line is that you can enjoy a happy floral life as far as you do floral designs strictly for hobby.
If you want to learn flower arrangements, why not pick up your favorite course from a
Wide Range of Programs
we offer. For more information, please contact info@california-academy.com


Be the first to post a comment.

California Flower Art Academy
has been engaged in teaching a wide range of floral designs in the San Francisco Bay Area and Silicon Valley (San Jose) since 1990 as a floral school certified by Flower Decorators Association (Tokyo Japan). We offer hands on training of ONE ON ONE instructions (semi private lessons) which greatly help entry level students easily and quickly earn a decent level of skills. If you are looking for a reliable floral arrangement instructors or floral design school offering quality classes with cheap, inexpensive and affordable tuition in the San Francisco Bay Area (San Mateo County) or Silicon Valley (San Jose, Santa Clara County), why not join
California Flower Art Academy
? We help you make a difference in floral art.
RSS
|