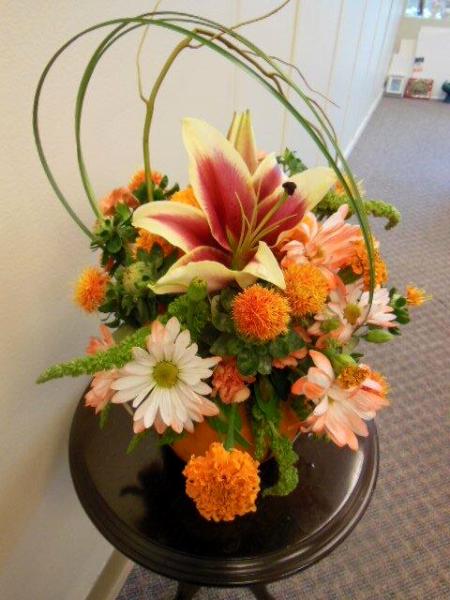 The second photo shows a floral arrangement our head instructor designed and made for a big home party at the party place. Other floral designs were made by our students under the directions of flower arrangement instructors during real lessons of
California Flower Art Academy
. Most students can make these arrangements if our instructor provides directions and help during lessons. Can they make such arrangements by themselves without any help by instructor ? Our answer is "No". This means if they continue learning at our school and make reasonable practice at home, they can earn good skills for making these arrangements without any doubt.
Judging from our past experience, as far as students diligently follow instructions from our teacher and make reasonable practice at home, they can make beautiful floral designs for SURE. Our proven track record tells it is no big deal to achieve a goal. If you are planning to have your own floral business such as running a floral shop by yourself, being successful in operating your shop is even more difficult than earning a decent flower arranging skill.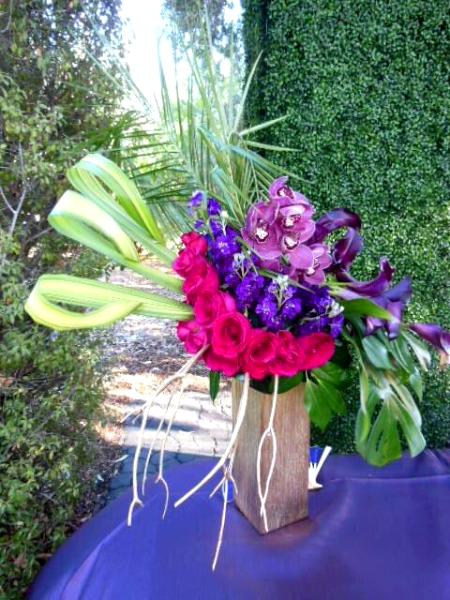 California Flower Art Academy
does not offer any programs for teaching floral shop management or floral design marketing whatsoever. You MIGHT have a question of How to Learn Shop Management. There are various ways as mentioned below:
1. OJT at floral shop
2. Learn at a college
3. Learn at FTD University
(1) OJT (On the Job Training) : Without joining any school, get a job or work as a volunteer (or intern) for a floral shop where you will learn how to do business of running a floral shop.
(2) Learn at a college: Join a college that offers floral shop business management.
GWC (Golden West College)
offers training program floral shop management.
(3) Learn at
FTD University
: FTD (Flower Delivery Company) offers a training program for people who run a floral shop. This is called FTD University. Also visit
The FTD Advantage
.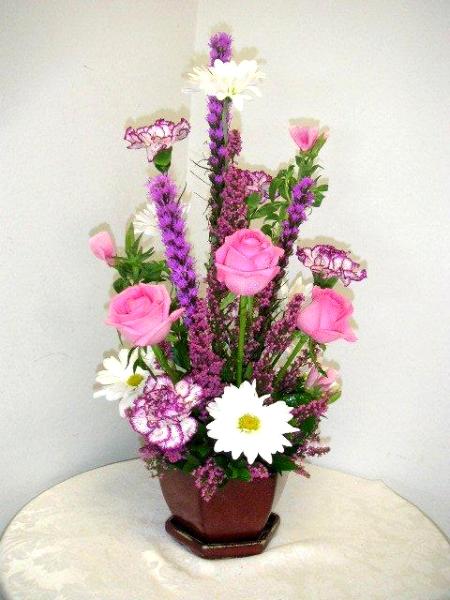 The other day a mother of one of prospective students contacted our school and commented on email as follows: She was explained by one of floral shop owners that it is not necessary to go to school for getting training for how to design flowers. I guess what she meant is that even if they do not take any lessons about floral designs at school, they can sell flowers at floral shop. As far as they just sell ordinary and simple flower arrangements at a shop and also on the internet, there MAY be no problem because they can get know how and secret for running a shop by way of OJT. This is possible. The most ideal way is before learning from OJT, if he/she joins a class or seminar at a college or FTD University, they can learn it more effectively.
Current Internet Technology has dramatically changed the way of doing business. By way of old fashioned analog way of business, you have a hard time for surviving in the industry. In order to catch up with the modern way of business management, it MAY be necessary to learn a shop management at a school.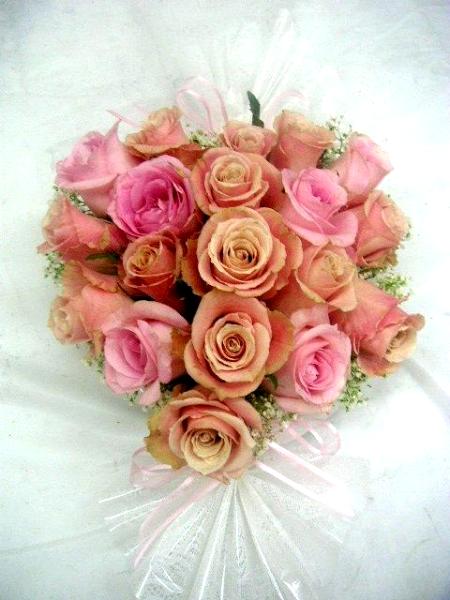 However OJT is still an effective and practical way for learning how to do floral shop business. We are sure if the shop adopts the current popular way of management, their computer and network system greatly helps run the business. Talking about FTD University, it must bring you valuable know-how and secrete for selling flowers online. Quite frankly speaking, we did not try any methods introduced in the above and therefore we are not in a position to make a fair evaluation about each method.
For those who have no previous experience we recommend following programs:
For more information, please contact info@california-academy.com
Here is YouTube video introducing The FTD Advantage. Source of this video is
Mercury Network
. Also visit
FTD.com


Be the first to post a comment.

California Flower Art Academy
has been engaged in teaching a wide range of floral designs in the San Francisco Bay Area and Silicon Valley (San Jose) since 1990 as a floral school certified by Flower Decorators Association (Tokyo Japan). We offer hands on training of ONE ON ONE instructions (semi private lessons) which greatly help entry level students easily and quickly earn a decent level of skills. If you are looking for a reliable floral arrangement instructors or floral design school offering quality classes with cheap, inexpensive and affordable tuition in the San Francisco Bay Area (San Mateo County) or Silicon Valley (San Jose, Santa Clara County), why not join
California Flower Art Academy
? We help you make a difference in floral art.
RSS
|