All these flower arrangements were designed and made by our students under the directions of our instructor during real lessons in the classroom of
California Flower Art Academy
. These are candle flower arrangements OR we should call them "Flower Arrangements with candle decoration". Candles are used to enhance the beauty of floral designs and they are a kind of supplementary elements.
From time to time we teach candle floral arrangements that can be used in various occasions and a variety of places from home decoration to party arrangements. We can often find floral arrangements with candle decoration in our daily life.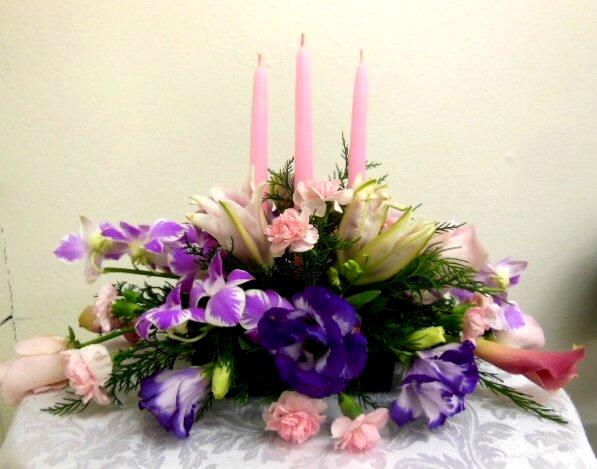 Dining table is often decorated with candle flower arrangements. Also on Christmas Day, candle decorations are displayed at home. Even in a restaurant, it is displayed on the table especially after getting dark. It definitely helps create a wonderful atmosphere. Most candle floral arrangements we teach at our classroom are designed with small size that fits with display at home. By experiencing to make such small size candle arrangements, they become familiar with how to make it and they can earn skills for other type of designs to be used for wedding, Christmas and birthday party whatsoever. The curriculum of Wedding Ceremony Arrangement Course has a lesson of learning how to make candle arrangement.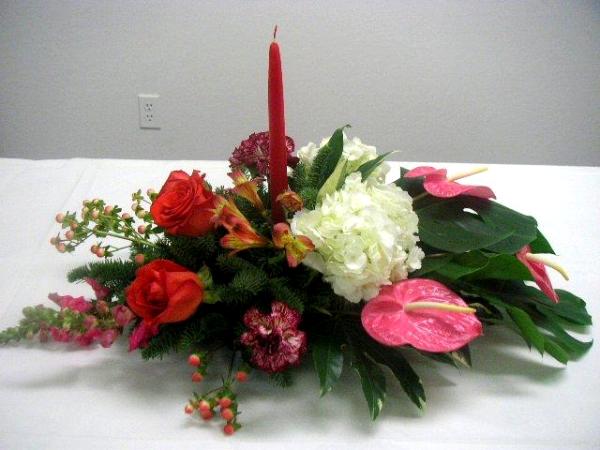 If you would like to learn candle floral design, one of ways is to join
Wedding Ceremony Arrangement Course
. If you would like to learn only candle arrangement, please let us know so that we will set up special program for you focusing on candle flower arrangements. We offer a
Wide Range of Programs
to satisfy various requirements from our students. Those who have never learned floral designs are recommended to join following programs:
Here is YouTube video introducing Candelabra Flower Arrangement Floristry Tutorial.


Be the first to post a comment.

California Flower Art Academy
has been engaged in teaching a wide range of floral designs in the San Francisco Bay Area and Silicon Valley (San Jose) since 1990 as a floral school certified by Flower Decorators Association (Tokyo Japan). We offer hands on training of ONE ON ONE instructions (semi private lessons) which greatly help entry level students easily and quickly earn a decent level of skills. If you are looking for a reliable floral arrangement instructors or floral design school offering quality classes with cheap, inexpensive and affordable tuition in the San Francisco Bay Area (San Mateo County) or Silicon Valley (San Jose, Santa Clara County), why not join
California Flower Art Academy
? We help you make a difference in floral art.
RSS
|