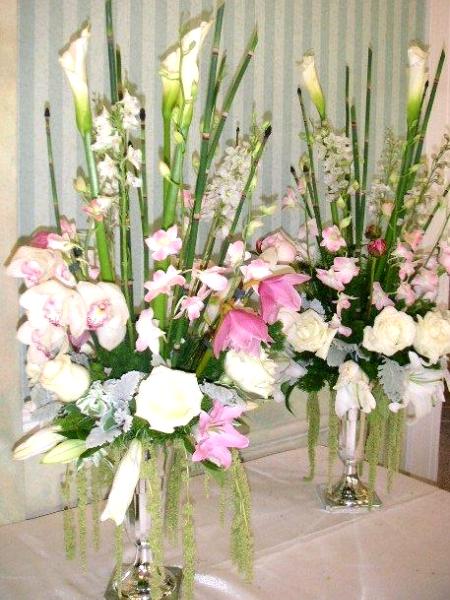 The upper photo shows flower arrangement designed and made by our instructor at the wedding hall. The lower arrangement was made by our student under the directions of our instructor. If you learn at
California Flower Art Academy
and make reasonable practice at home, you can earn skills for making this kind of floral arrangements. We teach flower arrangements by way of hands on training of ONE ON ONE instructions. Since the maximum number of students per class is 4 (typically 2 to 3 per class), the environment is pretty ideal to implement semi private lesson. This greatly helps our students quickly earn good skills of floral arranging.
California Flower Art Academy specializes in teaching fresh flower arrangements. Although we used to teach artificial flower designs such as dried flower and silk flower arrangements, we are now offering only fresh flower design classes. Fresh flowers can live to some extent as far as we supply water and take a reasonable care such as temperature etc. However when it comes to fake flowers, they do not have a life.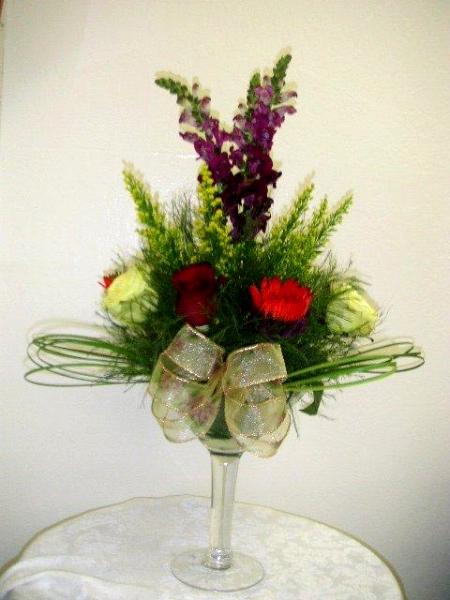 Therefore no matter whether we supply water or take a good care of them, they do not grow or they do not "die". Fresh flowers are like children. If they are loved by a parent, they get reasonable food and reasonable care. The same story about fresh flowers. In order for them to live a life, it is necessary for them to be loved by the owner and to get a reasonable care. In short lazy people should not do fresh flower arrangement. If you believe you are not lazy and want to earn fresh flower arranging skill, we can help. Those who have no experience had better start from following programs:
If you have a full time job and cannot attend weekday and daytime classes, we can help.
California Flower Art Academy
offers
Weekend Class
and/or
Evening Lesson
every week. You can take lessons of any program/course at above Weekend Class and Evening Lesson. For more information, please contact info@california-academy.com
Here is YouTube video introducing Floralife's 5 steps of Fresh for Flower Care. Source of this video is
Floralife 1938
. Demonstration is by floralife. Also visit
website of Floralife
.


Be the first to post a comment.

California Flower Art Academy
has been engaged in teaching a wide range of floral designs in the San Francisco Bay Area and Silicon Valley (San Jose) since 1990 as a floral school certified by Flower Decorators Association (Tokyo Japan). We offer hands on training of ONE ON ONE instructions (semi private lessons) which greatly help entry level students easily and quickly earn a decent level of skills. If you are looking for a reliable floral arrangement instructors or floral design school offering quality classes with cheap, inexpensive and affordable tuition in the San Francisco Bay Area (San Mateo County) or Silicon Valley (San Jose, Santa Clara County), why not join
California Flower Art Academy
? We help you make a difference in floral art.
RSS
|