All these arrangements were designed and made by our students under the directions of our instructor during real lessons in the classroom of California Flower Art Academy. No matter whether you already have floral design skill or not, taking lessons of flower arrangements is a key to success for you to earn practical skills of floral designs.
Especially when you start learning flower arrangements, learning and earning basics of floral design is mandatory so that you can an active floral designer highly evaluated in the industry. In order for beginner students to earn a decent basic skill, we teach each student by way of semi private lesson.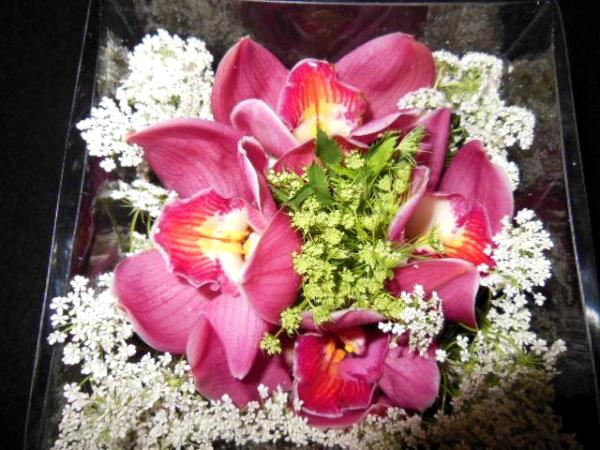 For implementing hands on training of ONE ON ONE instructions we limit number of students to no more than 4 per class (typically 2 to 3 students per class). The reason why our students can make such beautiful floral arrangements as shown per these photos is they are trained with semi private lesson system.
Our instructor can take well care of each student and mutual and interactive communications between our instructor and students can be easily made on real time basis. If you have already taken lessons of floral designs somewhere else and feel that you are lacking hands on training, why not join California Flower Art Academy. We can help you brush up or improve your skills.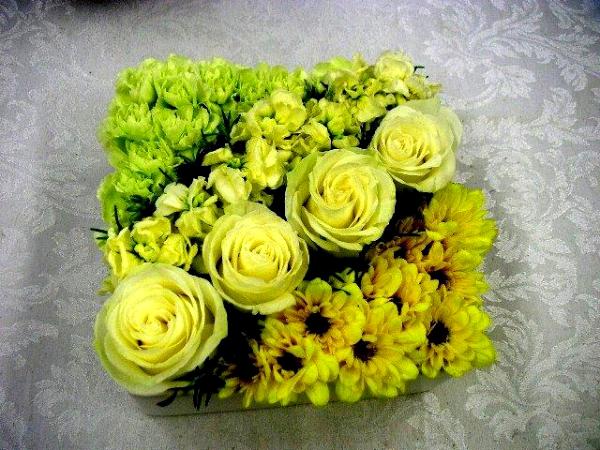 Our students have great opportunities of learning various types of designs even at Fresh Flower Arrangement Elementary Course that consists of curriculum for variety of designs. The photos in this page show round arrangements to square centerpiece decorations. You will be familiar with vertical to horizontal arrangements, symmetrical to asymmetrical designs, L shape to S shape decorations so on and so forth.
We have entered into the spring which is the best season for us to enjoy floral arrangement and we find lots of flowers and trees are blooming in this season. PLUS many couples are getting married in the spring.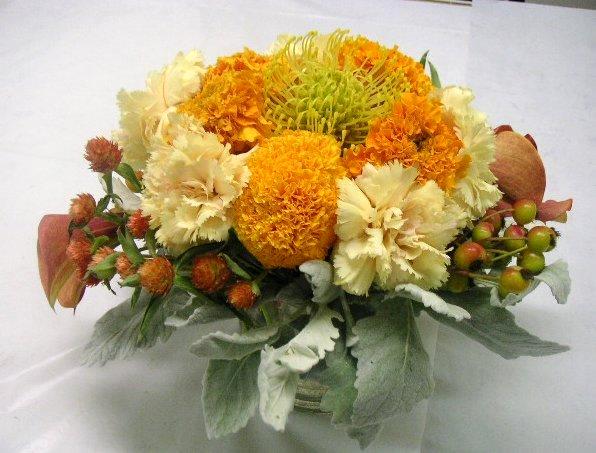 If you would like to learn flower arrangements as a hobby, DIY project for your own wedding OR for earn a quality skill to be a professional floral designer, we can help. According to your goal, you can pick up your favorite course from our Wide Range of Programs. For those who are new to floral design, we recommend following programs:
Introductory Trial Budget Program
Fresh Flower Arrangement Elementary Course.
If you want to earn wedding flower skills, why not join Wedding Floral Design Courses or Affordable Wedding Flower Programs ? For more information, contact @california-academy.com
Here is YouTube video introducing How to Make a Spring Flower Arrangement. Source of this video is
Eden Gardens
. Presenter is Sarah Cox, a well established florist at East Gardens


Be the first to post a comment.

California Flower Art Academy
has been engaged in teaching a wide range of floral designs in the San Francisco Bay Area and Silicon Valley (San Jose) since 1990 as a floral school certified by Flower Decorators Association (Tokyo Japan). We offer hands on training of ONE ON ONE instructions (semi private lessons) which greatly help entry level students easily and quickly earn a decent level of skills. If you are looking for a reliable floral arrangement instructors or floral design school offering quality classes with cheap, inexpensive and affordable tuition in the San Francisco Bay Area (San Mateo County) or Silicon Valley (San Jose, Santa Clara County), why not join
California Flower Art Academy
? We help you make a difference in floral art.
RSS
|