Spring is just around the corner. During spring season, people in Japan enjoy viewing cherry blossoms at their best. There are so many places where they can enjoy blossom viewing. In addition to regular cherry blossoms, we have another type of cherry blossoms that grow on the ground. This is called "Shibazakura" in Japanese. English name is Moss Phlox (Phlox subulata) Some people call it "Creeping Phlox". It does not bloom on trees but on the ground as if blossoms were creeping on the ground. If you are planning to visit Japan in the spring season, how about visiting following famous sight seeing spots where you can enjoy viewing beautiful Shibazakura ? All three places are not so far from Tokyo.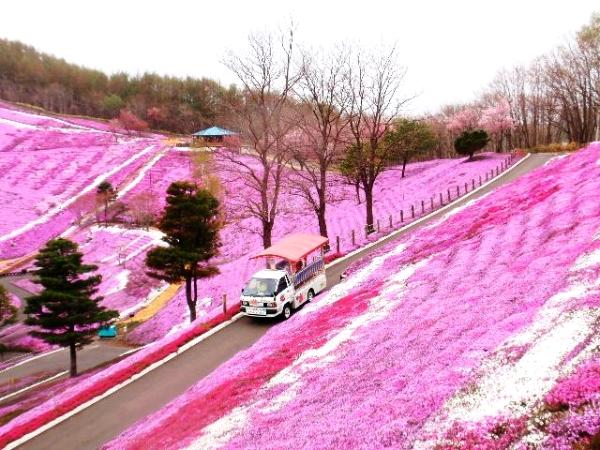 We pleased to introduce flower festivals and also sight seeing spots for enjoying beautiful flowers. If you would like to learn floral arrangements, why not join California Flower Art Academy where you can learn floral designs by way of semi private lesson. You can start from Introductory Program and Fresh Flower Arrangement Elementary Course. For more information, please contact info@california-academy.com
Here is YouTube video introducing Higashimoto Shibazakura Koen, Hokkaido. Source of this video is
shibazakuranet
.


Be the first to post a comment.

California Flower Art Academy
has been engaged in teaching a wide range of floral designs in the San Francisco Bay Area and Silicon Valley (San Jose) since 1990 as a floral school certified by Flower Decorators Association (Tokyo Japan). We offer hands on training of ONE ON ONE instructions (semi private lessons) which greatly help entry level students easily and quickly earn a decent level of skills. If you are looking for a reliable floral arrangement instructors or floral design school offering quality classes with cheap, inexpensive and affordable tuition in the San Francisco Bay Area (San Mateo County) or Silicon Valley (San Jose, Santa Clara County), why not join
California Flower Art Academy
? We help you make a difference in floral art.
RSS
|