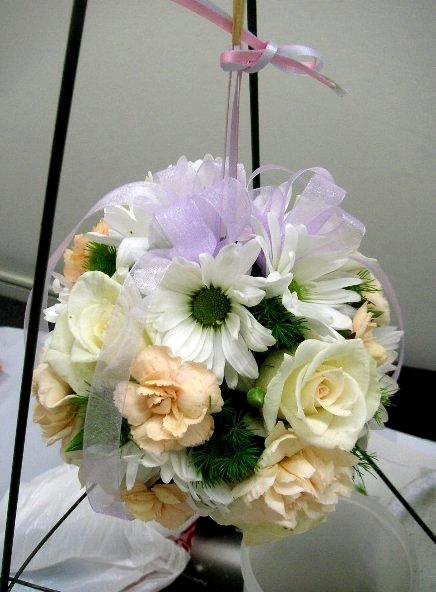 These photos show floral arrangements called Kissing Ball or Pomander designed and made by our students under the instruction of our flower arranging teacher during real lessons in the classroom of
California Flower Art Academy
. Kissing Ball is another name of Pomander. Namely pomander is also known as kissing ball. Then what is a pomander ? For those who are not familiar with pomander, we are pleased to explain as follows: The meaning of Original Pomander is explained on the internet as follows: A ball or perforated container of sweet-smelling substances such as herbs and spices, placed in a closet, drawer, or room to perfume the air or (formerly) carried as a supposed protection against infection. Piece of fruit, typically an orange or apple, studded with cloves and hung in a closet by a ribbon for a similar purpose.
Also according to Wikipedia, pomander is explained as follows:
The pomander was worn or carried in a vase, also known by the same name, as a protection against infection in times of pestilence or merely as a useful article to modify bad smells.
The globular cases which contained the pomanders were hung from a neck-chain or best, or attached to the girdle, and were usually perforated in a variety of openwork techniques, and made of gold or silver. Sometimes they contains several partitions, in each of which was placed a different perfume.
Above is the explanation about the original pomander on the internet. Pomanders originated in Europe (especially in France) and during the Middle Ages, it was believed to protect people from infection especially when pestilence was prevailing in Europea during the Middle Ages. However when we say "pomander" at the moment, it usually means one of floral decorations used for weddings. Pomander is usually held by a bride (hung from a hand) as a kind of bouquet at a wedding. It is also displayed as a centerpiece placed on the guest table at a wedding. One more use of pomander is it is hung from a ceiling at a wedding party as well as hung from a chair to make aisle decoration at the time of wedding ceremony. There are 4 ways of using pomanders at weddings as explained above.
California Flower Art Academy teaches a variety of floral arrangements by offering a Wide Range of Programs. Our standard curriculum of
Wedding Floral Decoration Advanced Course
covers a lesson of making a pomander. If you would like to learn how to make pomanders, please let us know. Besides pomanders, we offer under mentioned wedding related courses and seminars:
For more information, feel free to contact info@california-academy.com
Here is YouTube video introducing How to Make Pomander Bouquet. Source of this video is
ehow
. Demonstrator is Christine Holanda, owner of Lily of the Valley Floral Design & Gift Shop in La Quinta, Calif.


Be the first to post a comment.

California Flower Art Academy
has been engaged in teaching a wide range of floral designs in the San Francisco Bay Area and Silicon Valley (San Jose) since 1990 as a floral school certified by Flower Decorators Association (Tokyo Japan). We offer hands on training of ONE ON ONE instructions (semi private lessons) which greatly help entry level students easily and quickly earn a decent level of skills. If you are looking for a reliable floral arrangement instructors or floral design school offering quality classes with cheap, inexpensive and affordable tuition in the San Francisco Bay Area (San Mateo County) or Silicon Valley (San Jose, Santa Clara County), why not join
California Flower Art Academy
? We help you make a difference in floral art.
RSS
|