Click on the photos to enlarge their size. These photos show Ikebana arrangements made in the classroom of
California Flower Art Academy
. They were made by our students under the instruction of our Ikebana arrangement teacher. Both arrangements are what are called "
Moribana
" that uses
Kenzan
(frog: needlepoint holder to hold flowers/plants) placed in
Suiban
(shallow container specifically designed for Ikebana arrangements).
Unlike floral foam used for European or American arrangements, Kenzan can be repeatedly used (it is not disposable) because it is made of heavy metal plate on which so many needles are mounted.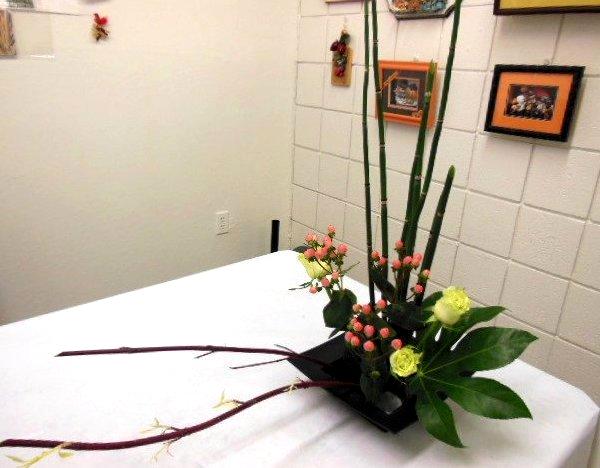 When arranging flowers, stems of flowers or plants are inserted onto Kenzan. Only because Kenzan is made of metal, it can be used during a lifetime period. The upper side arrangement uses thin tree branches in addition to flowers. Ikebana often features thin branches like this arrangement.
For this particular arrangement, regular branches are used. However Ikebana often features curved twigs or curly elements such as grapevines and curly willows etc.to express graceful line beauty. Both of these designs are asymmetrical, which is another typical way of Ikebana arranging. Namely under mentioned 3 ways of arrangements can be often found in Ikebana: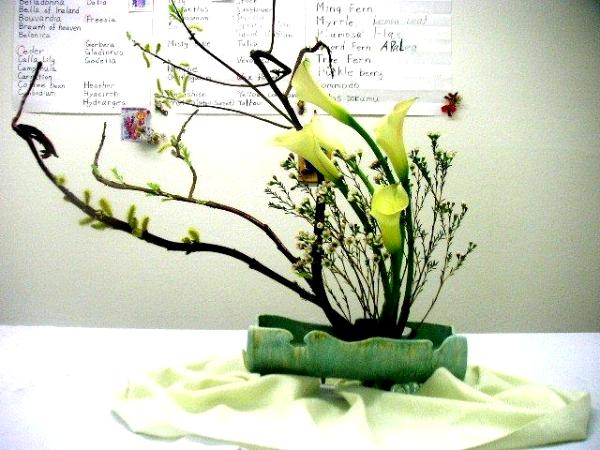 A. Using non flower elements such as tree branches and green leaves.
B. Arrangements are often made with asymmetrical way of design.
C. Ikebana arrangements are often made in the way of line arrangement.
D. Curly and curved materials are often used to offer the beauty of line elements.
California Flower Art Academy offers various Ikebana programs from
Short Seminar
and
Elementary Course
to Intermediate and Advanced Course. For more information, please contact info@california-academy.com


Be the first to post a comment.

California Flower Art Academy
has been engaged in teaching a wide range of floral designs in the San Francisco Bay Area and Silicon Valley (San Jose) since 1990 as a floral school certified by Flower Decorators Association (Tokyo Japan). We offer hands on training of ONE ON ONE instructions (semi private lessons) which greatly help entry level students easily and quickly earn a decent level of skills. If you are looking for a reliable floral arrangement instructors or floral design school offering quality classes with cheap, inexpensive and affordable tuition in the San Francisco Bay Area (San Mateo County) or Silicon Valley (San Jose, Santa Clara County), why not join
California Flower Art Academy
? We help you make a difference in floral art.
RSS
|