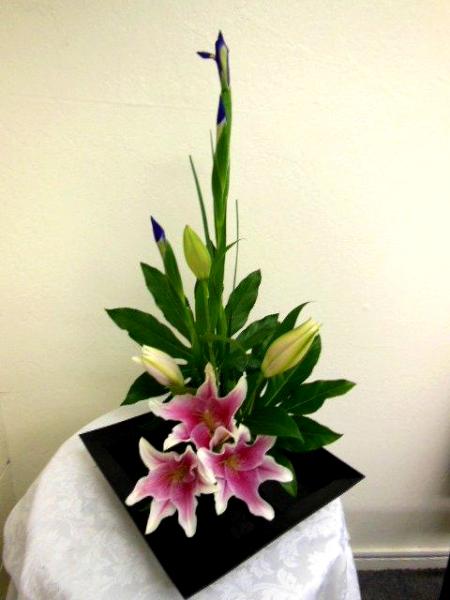 Click on the photo to enlarge it. This flower arrangement was designed and made by our student under the directions of our Ikebana instructor during real lesson in the classroom of
California Flower Art Academy
. In Ikebana arrangement, we often use greenery as an important element. In this case greenery by the name of "Yatsude" (in Japanese) or Fatsia (Fatsia Japonica) also known as Japanese Aralia is used. The upper photo shows the floral arrangement using Fatsia Japonica and the lower photo (photo source: Wikipedia) shows Fatsia leaf.
The arrangement is made in
Suiban
that is a shallow container specifically designed for Ikebana arrangement. In Suiban we place what is called
Kenzan
(needlepoint holder) on which flower stems and greenery leaves are mounted. (Kenzan is hiding under flower petals and fatsia leaves in this case). As a matter of fact, Ikebana arrangement often uses greenery plants that take an important role to make the design attractive and create an atmosphere which is a little bit different from Western Style Floral Designs.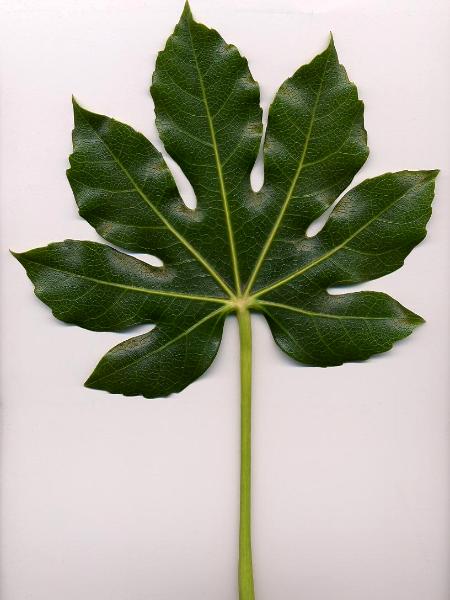 Concretely speaking we often use monstera, bear grass, horse tail, fatsia and various kinds of ferns. Sometimes Ikebana arrangements feature such green leaves which means as a focal element green leaves are often used in Ikebana. If you are interested in Japanese traditional culture and planning to learn floral designs, Ikebana COULD be a good answer. Or if you are already engaged in working on western style floral arrangement and feel a little bit bored with conventional designs, learning Ikebana will bring you a new concept and idea for making a difference in your flower arrangement. For those who have never learned Ikebana arrangement, we recommend following programs specifically designed for entry level students:
REMARKS: We do not offer Ikebana Arrangement Instructor Course. None of our Ikebana courses is designed for training students to become Ikebana Instructor.
If you are too busy to attend weekday and daytime lessons, why not join our
Weekend Class
and
Evening Lesson
? For more information, please contact info@california-academy.com
Here is YouTube video introducing Guide to Ikebana, the Japanese Art of Flower Arrangement - GN Guides. Source of this video is
GulvNewsTV
. Also visit
GulfNews.com
Videography: Logan Fish, Reporting: Conrad Egbert


Be the first to post a comment.

California Flower Art Academy
has been engaged in teaching a wide range of floral designs in the San Francisco Bay Area and Silicon Valley (San Jose) since 1990 as a floral school certified by Flower Decorators Association (Tokyo Japan). We offer hands on training of ONE ON ONE instructions (semi private lessons) which greatly help entry level students easily and quickly earn a decent level of skills. If you are looking for a reliable floral arrangement instructors or floral design school offering quality classes with cheap, inexpensive and affordable tuition in the San Francisco Bay Area (San Mateo County) or Silicon Valley (San Jose, Santa Clara County), why not join
California Flower Art Academy
? We help you make a difference in floral art.
RSS
|