These are Ikebana arrangements made by our students under the instructions of our Ikebana teacher during real lessons in the classroom of
California Flower Art Academy
. The upper arrangement uses branches of a blooming tree and also pink flowers, which creates a beautiful floral decoration.
The lower arrangement features white flower with bunch of greeneries such as horse tails and ferns etc. The upper design fits with spring season and offers joyful atmosphere while the lower one creates quiet atmosphere. The lower one COULD be used even for funerals.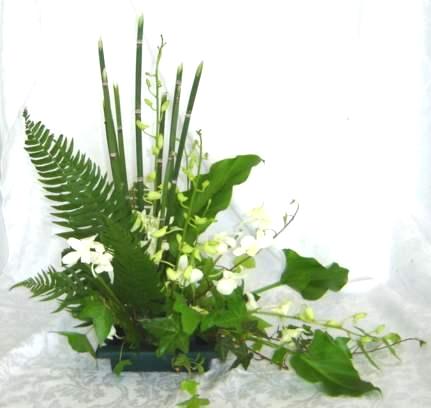 If all unnecessary stuff on and near the table is taken away, the arrangement from the upper photo MAY look much better. Viewers are kindly requested to close eyes not to see unnecessary stuff such as papers and chairs.
Ikebana is a very profound floral art
which originated in Japan and has a long history. If you are looking for something new in your floral design, it COULD BE one of ideas to include the skill of Ikebana arrangement whereby
you can create a little bit different atmosphere
that cannot be found in Western Style Floral Arrangement. For starting from scratch, we recommend following programs:
REMARKS: We do not offer Ikebana Arrangement Instructor Course. None of our Ikebana courses is designed for training students to become Ikebana Instructor. For more information, please contact info@california-academy.com
Here is YouTube video introducing Sogetsu Ikebana Winter-Spring Arrangemments in Canberra, Australia. Source of this video is
Ikebana with Ping
.


Be the first to post a comment.

California Flower Art Academy
has been engaged in teaching a wide range of floral designs in the San Francisco Bay Area and Silicon Valley (San Jose) since 1990 as a floral school certified by Flower Decorators Association (Tokyo Japan). We offer hands on training of ONE ON ONE instructions (semi private lessons) which greatly help entry level students easily and quickly earn a decent level of skills. If you are looking for a reliable floral arrangement instructors or floral design school offering quality classes with cheap, inexpensive and affordable tuition in the San Francisco Bay Area (San Mateo County) or Silicon Valley (San Jose, Santa Clara County), why not join
California Flower Art Academy
? We help you make a difference in floral art.
RSS
|