Upper design is Ikebana ("Moribana" arrangement). Lower one is European style arrangement ("L shaped" design). These arrangements were designed and made by our students under the directions of our instructor during real lessons in the classroom of
California Flower Art Academy
. Sometimes prospective students don't know which style of design they should learn, Japanese Ikebana or European arrangement ? In this kind of case, we briefly explain the difference between these two designs. If they want to use the skill for floral business, European arrangement is recommended. Some people still cannot have a clear picture about the difference.
If you would like to have a clear picture regarding the difference, the effective and the easiest way is for you to try both designs by joining introductory program mentioned below:
A. Japanese floral art:
B. European arrangement: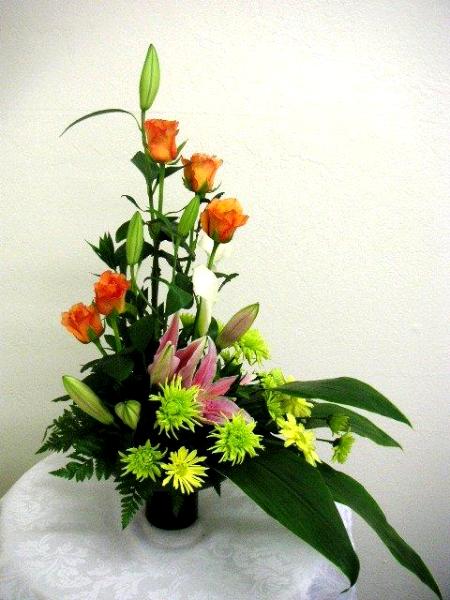 By joining above programs, you can learn and experience to make two kinds of arrangements (two each per Ikebana and European design). Each seminar lasts about 2.5 hours. After experiencing to make both designs, you will have a clear picture about the difference. There is a difference not only the way of arranging but also the tools (devices) used for each arrangement. By knowing the major difference, you can make a decision for choosing either Ikebana or European design. After deciding which way you go, you will sign up for one of under mentioned courses:
REMARKS: We do not offer Ikebana Arrangement Instructor Course. None of our Ikebana courses is designed for training students to become Ikebana Instructor.
If you have any questions about above programs or need more information, please let us know by contacting info@california-academy.com
Here is YouTube video introducing Wafu Ikebana 2012. Source of this video is
kvandry
.


Be the first to post a comment.

California Flower Art Academy
has been engaged in teaching a wide range of floral designs in the San Francisco Bay Area and Silicon Valley (San Jose) since 1990 as a floral school certified by Flower Decorators Association (Tokyo Japan). We offer hands on training of ONE ON ONE instructions (semi private lessons) which greatly help entry level students easily and quickly earn a decent level of skills. If you are looking for a reliable floral arrangement instructors or floral design school offering quality classes with cheap, inexpensive and affordable tuition in the San Francisco Bay Area (San Mateo County) or Silicon Valley (San Jose, Santa Clara County), why not join
California Flower Art Academy
? We help you make a difference in floral art.
RSS
|