Towards the end of the year, we usually have lots of students who want to learn floral arrangements. Why ? Seemingly because they would like to make and display their own floral decoration during a holiday season. Some people want to make home decoration with flowers and some want to display at office or some want to make it for a party.
Further we sometimes find students who start learning flower arrangements for the wedding held in the coming spring. It usually takes some time to earn skill of wedding floral arrangements. Therefore December MAY be a right time to start training towards a spring wedding.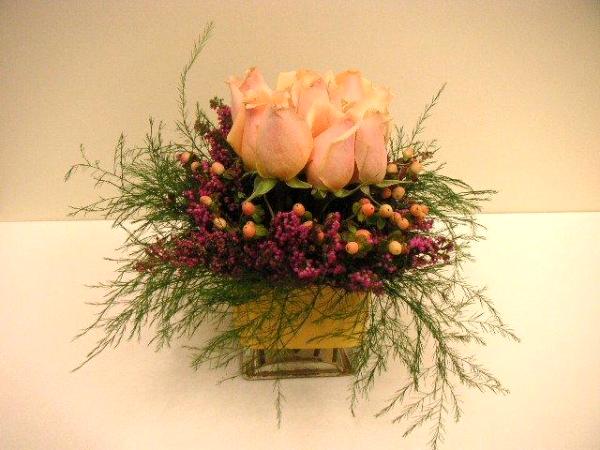 The photos in this page show similar floral arrangements that are made in a cubic glass container. These are simple and economical arrangements that do not take so much time to make it. But it is good enough to display at home. As the design is not big at all, it can be displayed at any place such as dining table, console table, cocktail table or on the mantel over a fire place.
Besides being easy and beautiful, it is quite economical too. The quantities of flowers are limited and the cubic glass container are available at a very affordable price. PLUS you can make this kind of tiny arrangement even at a busy time. There are various advantages with this kind of decoration.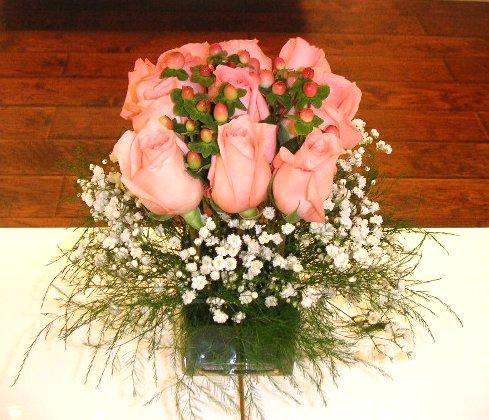 Getting back to December lessons, we can find various reasons why we have more students than usual. Some people take a lesson as a gift from her boy friend. Some join the class as a Christmas gift. Also some people get Christmas bonus from a company they work for and the financial situation allows them to spend some money for a floral design lesson. From person to person the reason why they take lessons in December is different.
The biggest reason MAY be that they would like to decorate their home with floral arrangements during Christmas holidays. Quite frankly most floral arrangements introduced and demonstrated on YouTube video are pretty big, which needs lots of flowers. Since the size is very big it does not fit limited space.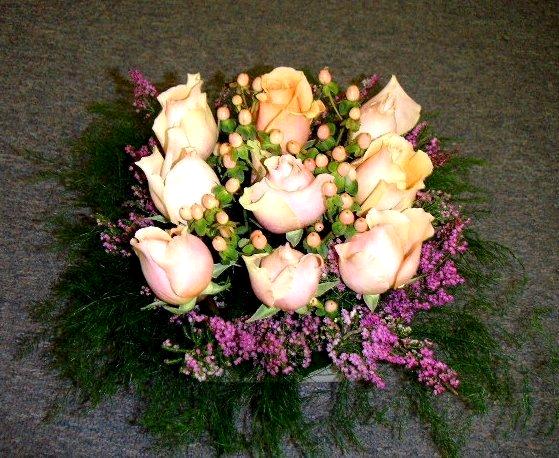 Plus it is too difficult to make a large design and also takes too much time for a beginner to make a big arrangement. You can display tiny arrangements like the one shown in this page anywhere at your home. Meanwhile all the floral arrangements introduced in this page were made by our students during a lesson of floral design at
California Flower Art Academy
. Designs were made under the direction of our flower arrangement instructor. If you learn at California Flower Art Academy, it is not a big deal for you to make beautiful and simple arrangements (like ones shown in this page) by yourself.
Once you have earned a reasonable skill, you can make floral arrangements any time you like. You can DESIGN, MAKE, DISPLAY and ENJOY VIEWING the floral decorations that reflect your own idea and concept.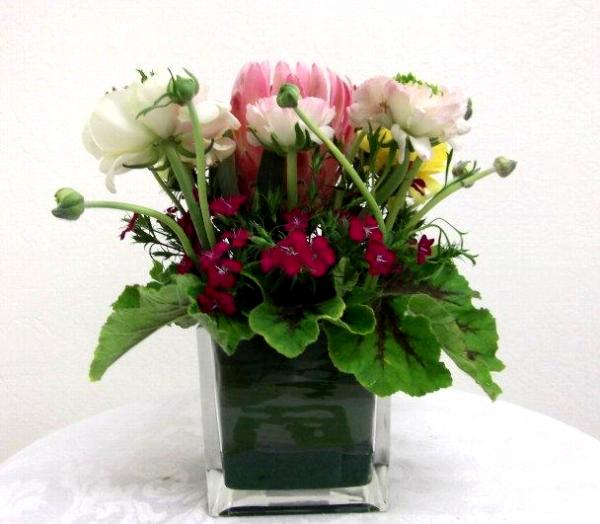 Since
California Flower Art Academy
trains our students with semi private lesson (hands on training of ONE ON ONE instructions), each student can be well taken care of by our instructor. Unlike the floral arrangement lecture offered by local community colleges (that is apt to be one sided from instructor to students), there is interactive and mutual communications between students and our instructor in our classroom.
Students can raise any questions at any time they like during a lesson and instructor can provide a timely advice and correction to a student who does arrangement in a wrong way. This can be done only because class size is very small. Students can choose their favorite course from our
Wide Range of Programs
. Those who have no previous experience are recommended to start from following program(s):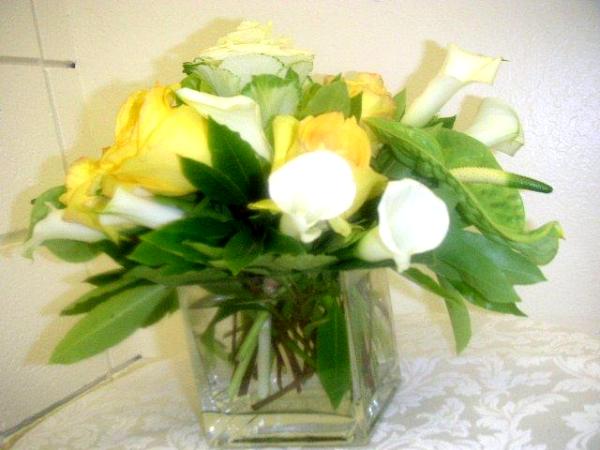 A. European arrangement:
B. Japanese traditional floral art:
If you cannot join weekday and daytime lessons, you can join
Weekend Class
or
Evening Class
. We are more than happy to help you earn practical skills of floral arrangements. For more information, please contact info@california-academy.com
We help you make a difference in floral art.
Here is YouTube video introducing Crafty Creations: Floral Arrangements. The source of this video is
LaurenConrad
. Demonstrator is
Lauren Conrad
(LaurenConrad.com)


Be the first to post a comment.

California Flower Art Academy
has been engaged in teaching a wide range of floral designs in the San Francisco Bay Area and Silicon Valley (San Jose) since 1990 as a floral school certified by Flower Decorators Association (Tokyo Japan). We offer hands on training of ONE ON ONE instructions (semi private lessons) which greatly help entry level students easily and quickly earn a decent level of skills. If you are looking for a reliable floral arrangement instructors or floral design school offering quality classes with cheap, inexpensive and affordable tuition in the San Francisco Bay Area (San Mateo County) or Silicon Valley (San Jose, Santa Clara County), why not join
California Flower Art Academy
? We help you make a difference in floral art.
RSS
|