These arrangements were made by our students under the directions of our instructors. We have been educating so many students since 1990. Judging from our past experience, as far as our students diligently follow the instructions and directions from our instructor and make reasonable practice at home, the vast majority of students can earn decent floral design skills for making these kinds of arrangements. Regardless of the factors of age and gender, most students can successfully earn practical flower arranging skills. Running floral business is much more difficult than earning flower arranging skills. Of course, from person to person inherent ability, level of resourcefulness and skill are different. This difference COULD affect the speed of mastering floral arranging. However the vast majority of students can earn a decent skill as far as they follow floral design teacher's instructions advice.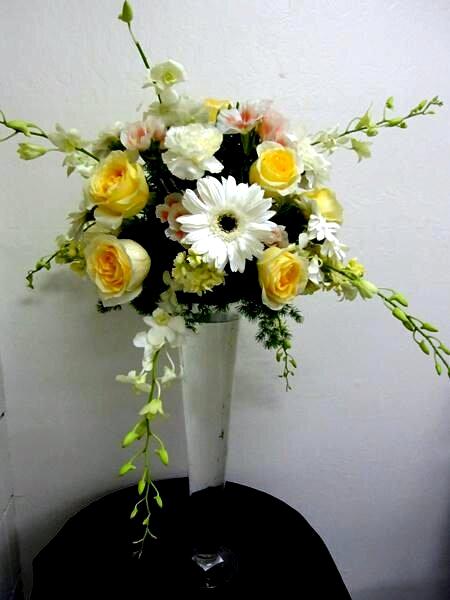 The title of this article is "It's never too late to start learning floral designs from now". As a matter of fact, we sometimes have students who are older than 60. But as far as they love flowers and have passion for learning something new, there should be no problem at all. Actually our instructor takes care of each student by well considering the level of his/her understanding about what they are now learning. We are more than happy to help students who are diligent and enthusiastic. In addition to the factor of age, some people MIGHT talk about another factor of gender. We teach flower arranging not only to female but also to male students. Most male students are quite enthusiastic and they do love flower designs. In this sense judging from our past experience, we do not find even a little bit problem with men learning flower designs. As a matter of fact, we find many men who are better than women in flower arranging skills.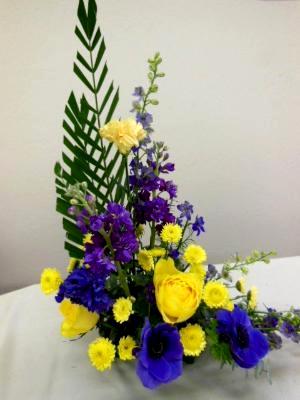 The bottom line is no matter how old you are and regardless of your gender, you can be a good candidate to become an active floral artist. The most important point is the fact that you love flowers. If you feel like learning flower arrangement as a duty, you MAY not be able to be a good floral designer.
Since
California Flower Art Academy
offers a very
Wide Range of Programs
, you can make a choice of your most favorite program by well considering your budget, taste and purpose of learning flower arrangements. If you have no experience in floral designs, you are recommended to start from under mentioned program:
For those who cannot join weekday lessons and daytime classes, we offer
Weekend Class
and
Evening Lesson
as well. For more information, please contact our admin office at info@california-academy.com
Here is YouTube video introducing Baby Shower Flowers. Source of this video is
WLUK-TV FOX 11
. Demonstrator is Nicole Campbell, PETAL PUSHER.


Be the first to post a comment.

California Flower Art Academy
has been engaged in teaching a wide range of floral designs in the San Francisco Bay Area and Silicon Valley (San Jose) since 1990 as a floral school certified by Flower Decorators Association (Tokyo Japan). We offer hands on training of ONE ON ONE instructions (semi private lessons) which greatly help entry level students easily and quickly earn a decent level of skills. If you are looking for a reliable floral arrangement instructors or floral design school offering quality classes with cheap, inexpensive and affordable tuition in the San Francisco Bay Area (San Mateo County) or Silicon Valley (San Jose, Santa Clara County), why not join
California Flower Art Academy
? We help you make a difference in floral art.
RSS
|