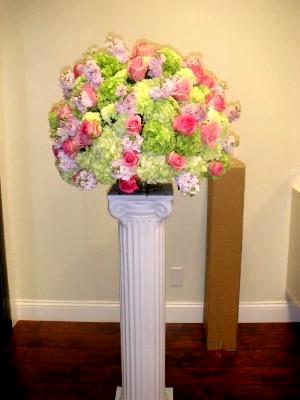 The upper flower arrangement was made by our instructor in the classroom of California Flower Art Academy. The lower arrangement was made by one of our graduates at a wedding hall. Both flower balls were used in the same wedding ceremony.
The most famous flower ball used at weddings is a pomander also known as a kissing ball. However these are not pomanders. The size of these flower balls are much larger than pomanders. While typical use of pomander is for a bride to hold it, these larger flower balls are mounted on the display stand as shown in the photos.
The upper side flower ball is displayed in the room. The lower side one is displayed outside where actual wedding ceremony was held. There is not so big difference in the way of making both flower balls. Namely both balls are made by way of using floral foams on which flowers and other elements (if any) are inserted. If you are planning to have your own floral shop OR to offer wedding floral decorating services, mastering how to make pomanders and large flower balls are highly recommended.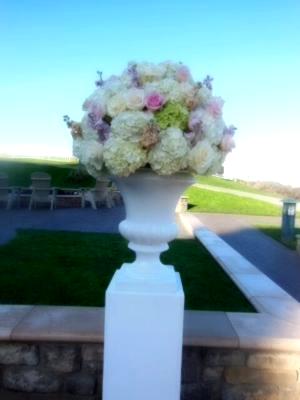 Besides pomanders and large flower balls, there are so many kinds of floral arrangements used for weddings. In order to comply with various request from our students,
California Flower Art Academy
offers a Broad Range of Wedding Flower Programs as introduced below:
For more information, please contact info@california-academy.com


Be the first to post a comment.

California Flower Art Academy
has been engaged in teaching a wide range of floral designs in the San Francisco Bay Area and Silicon Valley (San Jose) since 1990 as a floral school certified by Flower Decorators Association (Tokyo Japan). We offer hands on training of ONE ON ONE instructions (semi private lessons) which greatly help entry level students easily and quickly earn a decent level of skills. If you are looking for a reliable floral arrangement instructors or floral design school offering quality classes with cheap, inexpensive and affordable tuition in the San Francisco Bay Area (San Mateo County) or Silicon Valley (San Jose, Santa Clara County), why not join
California Flower Art Academy
? We help you make a difference in floral art.
RSS
|