These arrangements were made by our students under the directions of our instructor.. If you are trained by our instructor and make reasonable practice at home, it is no big deal to earn a good skill for making these kinds of designs even without any help by our instructor. Quite frankly speaking our students can make above arrangements as far as they are guided and helped by our instructor in the classroom. Do you think they can make the same arrangements at home without any help by our instructor ? Answer is "No", unless they continue taking lessons and make reasonable practice at home".
Now what we would like to say with the title in this page is as mentioned below: When starting to take lessons, you need to decide from which program you should start.
Fresh Flower Arrangement Elementary Course
covers 10 designs and it costs $390.
Introductory Trial Budget Program
covers 2 designs and its lesson fee is $98. If you are concerned about the quality of lesson or the way our school teaches, you don't have to sign up for the
Elementary Course
. Instead, just sign up for
Introductory Program
. After finishing Introductory Program, if you like the way we teach, you can sign up for the Elementary Course.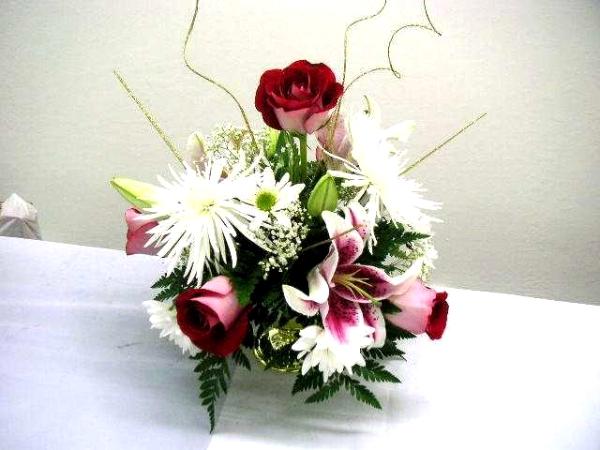 If you don't like the way we teach, you just stop taking any more lessons. After you left our school, if you change your mind and feel like coming back to us to resume taking lessons of the remaining curriculum of the Elementary Course, you are welcome to come back to us at any time you like. If you are interested in trying this way, please contact info@california-academy.com
REMARKS: Information described in this page, including but not limited to, lesson fee and number of designs we teach, shall be subject to change without notice.
Here is YouTube video introducing Flower Arrangements: Tropical Fresh Flower Arrangements. Source of this video is
essortment
. Demonstrator is David Z. Ghoukassian, Event and Floral Designer. Also visit
Flowers By David
.


Be the first to post a comment.

California Flower Art Academy
has been engaged in teaching a wide range of floral designs in the San Francisco Bay Area and Silicon Valley (San Jose) since 1990 as a floral school certified by Flower Decorators Association (Tokyo Japan). We offer hands on training of ONE ON ONE instructions (semi private lessons) which greatly help entry level students easily and quickly earn a decent level of skills. If you are looking for a reliable floral arrangement instructors or floral design school offering quality classes with cheap, inexpensive and affordable tuition in the San Francisco Bay Area (San Mateo County) or Silicon Valley (San Jose, Santa Clara County), why not join
California Flower Art Academy
? We help you make a difference in floral art.
RSS
|