The first photo shows
pomander
that is one of typical floral decorations used at weddings. This arrangement is also known as a kissing ball. At a wedding bride holds this pomander and it is hung from a bride's hand. Pomander is also used for decorating ceremony chairs (the second photo).
It is called aisle decoration. The first pomander was designed and made by our student under the directions of our instructor during a real lesson in the classroom of
California Flower Art Academy
. The second pomander was made at the wedding hall by one of graduates of our school.The last one is a bridal bouquet also made by our student.
We have many students who learned wedding flower arrangements. Among such students we can find lots of people who have no intention of using their skill of wedding flowers for doing floral business. Then what is the reason behind their motivation for learning wedding flowers ?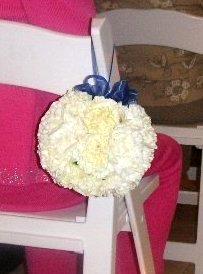 There are various types of wedding flowers as mentioned below:
Bouquet, pomander,
topiary
, corsage,
boutonniere
, wrist-band, garland, guest table arrangement, head-table centerpiece, chair decoration,
arch decoration
, cake decoration, flower basket, candle decoration arrangement,
chair decoration
(aisle arrangement) etc. etc.
As seen from above wedding flowers have a very broad range of arrangements. By learning these arrangements, our students can achieve followings:
A. Enhance the quality of design skills.
B. Expand the portfolio of their designs.
Once they master wedding floral arrangements, they have much more business opportunities for expanding their operation because wedding flower arranging service dominates the floral design industry.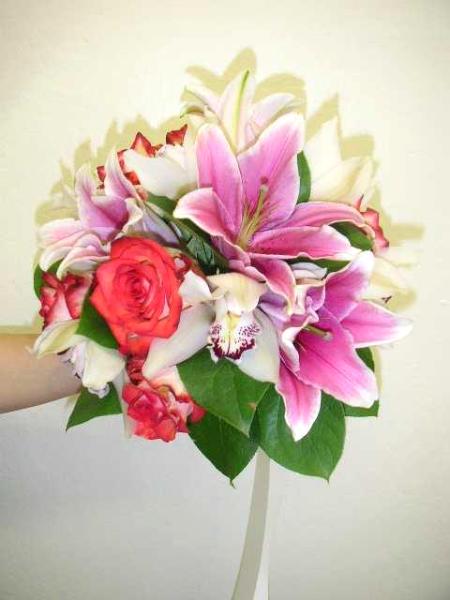 For those who are planning to do wedding flower business, learning wedding flowers bring them two merits. As mentioned above they can earn practical skills for making wedding flower arrangements PLUS they can expand the portfolio of their floral designs. The design and skill used for making wedding flowers can be definitely used for making some other arrangements used for other occasions because we find lots of wedding flowers can be displayed to make decorations for home and office as well as various events such as home party, birthday and anniversary party etc. etc. Also between wedding flowers and funeral decorations, there are lots of similarities in terms of design shape and concept. By changing colors or types of flowers, you can make even funeral flowers by using the same skill of wedding floral decorations. We offer under mentioned wedding flower programs:
For more information, please contact info@california-academy.com
Here is YouTube video introducing How to Make a Bridal Bouquet and add Glammour to your Couture Wedding Gown. Source of this video is
howtodiytv
. Demonstrator is Amy, owner of
Art of the Flower
How to Make a Bridal Bouquet and add Glammour to your Couture Wedding Gown


Be the first to post a comment.

California Flower Art Academy
has been engaged in teaching a wide range of floral designs in the San Francisco Bay Area and Silicon Valley (San Jose) since 1990 as a floral school certified by Flower Decorators Association (Tokyo Japan). We offer hands on training of ONE ON ONE instructions (semi private lessons) which greatly help entry level students easily and quickly earn a decent level of skills. If you are looking for a reliable floral arrangement instructors or floral design school offering quality classes with cheap, inexpensive and affordable tuition in the San Francisco Bay Area (San Mateo County) or Silicon Valley (San Jose, Santa Clara County), why not join
California Flower Art Academy
? We help you make a difference in floral art.
RSS
|