Click on the photos to enlarge the size. All these floral arrangements were designed and made by our students under the directions of our instructor during real lessons in the classroom of California Flower Art Academy. These table arrangements create a little bit different atmosphere by way of using green leaves that serve as a foil to flowers. These arrangements don't need a large space for display.
They can be displayed for home decorations at various locations such as on the dining table, console table in the foyer, cocktail table in the living room AND ALSO on the mantel over a fireplace whatsoever. We often use large leaves of tropical plants from Hawaii.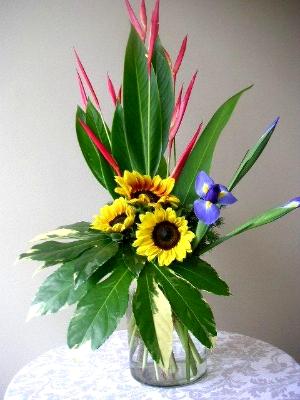 Only problem with design using tropical plant leaves is they are a little bit expensive because of being transported from Hawaii (or somewhere else). Well known large green leaves used for making accent in design is
monstera
and
aralia
. Besides these large leaves, we also use bear grass, curly willow etc when making curved lines. If you have ever learned Ikebana arrangement, you already know that Ikebana arrangement often uses greenery that takes a role of focal element. Bear grass etc are popular for creating curved lines which work quite effectively to offer the natural beauty. Besides the arrangement with tropical plants, California Flower Art Academy teaches various floral designs from European arrangement to Japanese Ikebana, beginner to professional levels.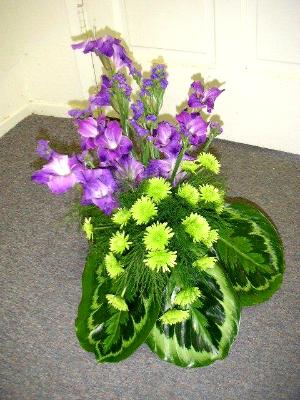 No matter which style of design you want to learn, European arrangement or Japanese Ikebana, California Flower Art Academy can help. For lesson purpose, we often make a choice of seasonal flowers with which our students learn floral arrangement that match each season. We offer a Wide Range of Programs so that our students can make a right choice depending on their taste, budget and also the purpose of learning flower arrangements. If you love flowers and would like to learn various types of floral arrangement, why not join California Flower Art Academy where you can learn floral designs by way of hands on training of ONE ON ONE instruction (semi private lesson). If you are too busy to take lessons on weekdays and daytime classes, we recommend you to join Weekend Classes and Evening Lessons.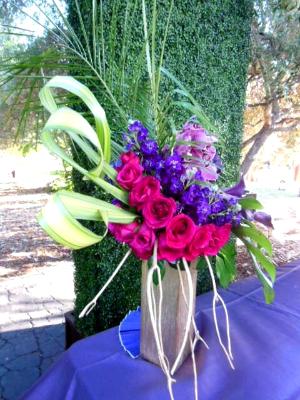 If you have no previous experience in floral designs, we recommend you to join following programs:
A. European arrangement:
Introductory Trial Budget Program
Fresh Flower Arrangement Elementary Course
B. Japanese floral art:
Ikebana Short Seminar Program
Ikebana Arrangement Elementary Course
For more information, feel free to contact us.


Be the first to post a comment.

California Flower Art Academy
has been engaged in teaching a wide range of floral designs in the San Francisco Bay Area and Silicon Valley (San Jose) since 1990 as a floral school certified by Flower Decorators Association (Tokyo Japan). We offer hands on training of ONE ON ONE instructions (semi private lessons) which greatly help entry level students easily and quickly earn a decent level of skills. If you are looking for a reliable floral arrangement instructors or floral design school offering quality classes with cheap, inexpensive and affordable tuition in the San Francisco Bay Area (San Mateo County) or Silicon Valley (San Jose, Santa Clara County), why not join
California Flower Art Academy
? We help you make a difference in floral art.
RSS
|