These arrangements were made by our students under the instructions of our floral design teachers during lessons in our classroom. First and second arrangements (from top) are displayed in the corner of table. As the angle for taking pictures is not very good PLUS the table and its surrounding wall are not so good, arrangements themselves do not look so nice. However we hope viewers of this page COULD probably understand the effect of floral arrangements. Decorating a table with floral arrangements can improve not only looking but also the atmosphere of table.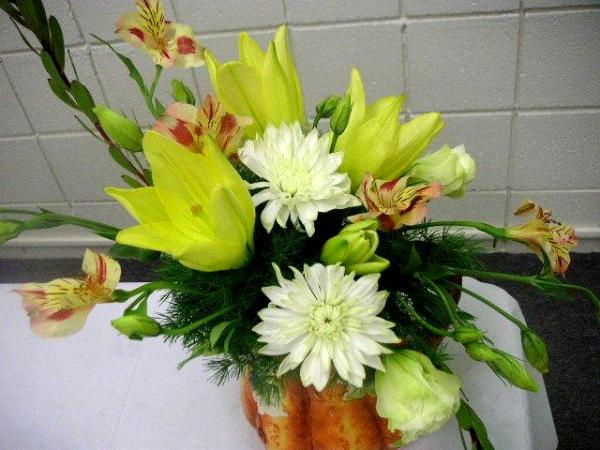 Those who learn floral designs at
California Flower Art Academy
can earn skills of making these kinds of arrangements that can be displayed at various locations and occasions. Even entry level of students who have no previous experience in floral designs can become floral artists who can make floral designs not only for home decorations but also office arrangements and event decorations. From a standpoint of school management, it is our pleasure to see our students successfully earning decent skills and making the best use of their skill for hobby and business.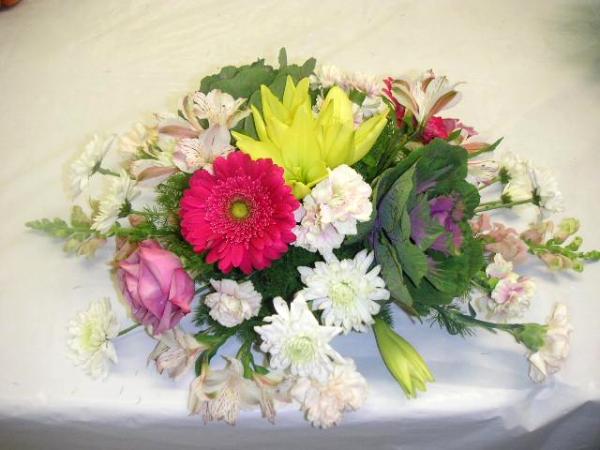 If you are dreaming to live a life surrounded by beautiful flower arrangements made yourself, we can help. As far as you diligently follow our teachers' instructions, vast majority of students can become a good floral artists. Judging from our experience in the past more than 25 years in America, we can help make your dreams come true. If you have to start from scratch, we recommend you to join following programs:
For more information, please contact info@california-academy.com


Be the first to post a comment.

California Flower Art Academy
has been engaged in teaching a wide range of floral designs in the San Francisco Bay Area and Silicon Valley (San Jose) since 1990 as a floral school certified by Flower Decorators Association (Tokyo Japan). We offer hands on training of ONE ON ONE instructions (semi private lessons) which greatly help entry level students easily and quickly earn a decent level of skills. If you are looking for a reliable floral arrangement instructors or floral design school offering quality classes with cheap, inexpensive and affordable tuition in the San Francisco Bay Area (San Mateo County) or Silicon Valley (San Jose, Santa Clara County), why not join
California Flower Art Academy
? We help you make a difference in floral art.
RSS
|