Have you ever visited a local flower market ? If not, we highly recommend you to do so. By visiting a flower market, you find uncountable kinds of flowers and other plants that can be used for flower arrangements. If you want to become familiar with names of flowers, it is a good idea to visit a local flower market. Not only learning flower names but also you can find various items used for flower arranging such as floral foam, container, Kenzan, Suiban as well as flower life extender etc.
In addition to above mentioned things, you MAY find a notice introducing a local floral shop that are for sale.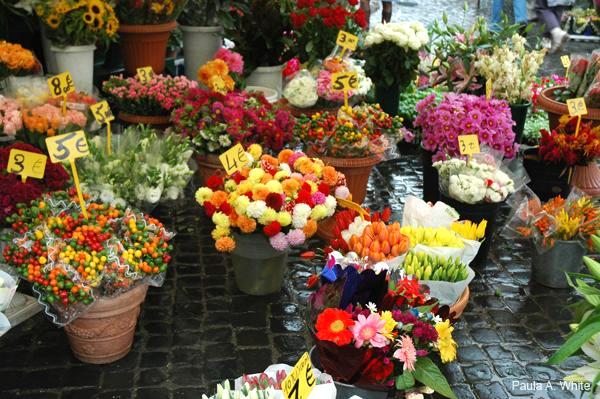 If your ultimate goal for learning floral arrangement is to have your own business, you may be interested in this kind of notice. Further some flower markets hold a flower show or floral design show from time to time by inviting a floral design instructor. If you are already doing floral business, you may have a seller's permit/resale license with which you can buy flowers and other items at a wholesale price which is much cheaper than buying at a regular retail shop. Some of flower markets may not allow you to enter the market UNLESS you have such permit/license. By visiting a flower market, you can get various information and your knowledge about flowers and flower related business can be enhanced.
Students who join
Fresh Flower Arrangement Instructor Course
can have opportunities of visiting a local flower market to learn procurement of fresh flowers. Once you own a floral shop or work as a florist/flower decoration service provider, it MAY be mandatory to visit a local flower market every single week. If you are interested in learning not only floral designs but also running a floral shop, you COULD get various knowledge by joining
California Flower Art Academy
.
We will do our best efforts so that you can learn a wide range of lessons while you take lessons at California Flower Art Academy. Those who are interested in learning a variety of floral designs and getting flower related knowledge are recommended to contact info@california-academy.com Source of this video is
New Covent Garden Market
.


Be the first to post a comment.

California Flower Art Academy
has been engaged in teaching a wide range of floral designs in the San Francisco Bay Area and Silicon Valley (San Jose) since 1990 as a floral school certified by Flower Decorators Association (Tokyo Japan). We offer hands on training of ONE ON ONE instructions (semi private lessons) which greatly help entry level students easily and quickly earn a decent level of skills. If you are looking for a reliable floral arrangement instructors or floral design school offering quality classes with cheap, inexpensive and affordable tuition in the San Francisco Bay Area (San Mateo County) or Silicon Valley (San Jose, Santa Clara County), why not join
California Flower Art Academy
? We help you make a difference in floral art.
RSS
|