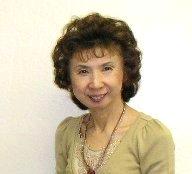 She grew up in Tokyo. When she was in High School in Japan, she started to learn Ikebana when European floral arrangement was not yet introduced to Japan. Back in 1980's when European floral design was introduced to Japanese market, she began to learn it. In 1987 she relocated from Tokyo to San Francisco Bay Area where she started to offer floral design classes as a volunteer. In 1990, she established California Flower Art Academy and shortly this school was certified by Flower Decorators Association (Tokyo, Japan).

Her talent is diversified and she has various qualifications and licenses as introduced below:

(1) European floral arrangement instructor (certified by Flower Decorators Association Japan)
(2) Ikebana Instructor (Iemoto Shihan certified by Yanagi Koryu in Japan)
(3) Tea Ceremony Instructor (certified by Omote Senke Seiha School Japan)
(4) Kimono (Japanese traditional clothing) dressing 1st Class Instructor & Examiner certified by Japan Kimono Association (Nihon Wasou Kyokai) Naganuma Shizu Kitsuke School, Japan.
(5) Shadow Box Art Instructor certified by Shadow Box Association, USA

REMARKS: Above Japanese organizations are named in Japanese and their operation is done mainly in Japan. The translation into English is done in our best efforts to express as accurate meaning as possible.

As seen from above, Mieko Hirano is deeply involved in not only Japanese but also European cultures. Currently she spends most of her time for teaching floral designs in the United States and Japan as well.







Be the first to post a comment.

California Flower Art Academy
has been engaged in teaching a wide range of floral designs in the San Francisco Bay Area and Silicon Valley (San Jose) since 1990 as a floral school certified by Flower Decorators Association (Tokyo Japan). We offer hands on training of ONE ON ONE instructions (semi private lessons) which greatly help entry level students easily and quickly earn a decent level of skills. If you are looking for a reliable floral arrangement instructors or floral design school offering quality classes with cheap, inexpensive and affordable tuition in the San Francisco Bay Area (San Mateo County) or Silicon Valley (San Jose, Santa Clara County), why not join
California Flower Art Academy
? We help you make a difference in floral art.
RSS
|