All these floral arrangements were made by our students under the instructions of our teachers during real lessons in the classroom of
California Flower Art Academy
. If there is no flower design case, we have several ways of arrangements we can enjoy as introduced in this page. Although there are lots of arrangements that don't need any container such as bouquet, corsage, flower basket, pomander etc. etc. we are going to talk about table arrangements or centerpieces only as follows:
A. Arrange fresh flowers on the hand made fresh plant plate.
B. Make a heart shaped design using plain wreath and fresh flowers.
C. Use a kitchen dish that can be used as a substitute of vase.
D. Use a wine glass that can be also used as an attractive simple vase
E. Use a mug cup in which flower arrangement is placed.
As seen from the photos, all arrangements are quite small in their sizes and they are suitable for displaying as a home decoration.
If you are tired of making ordinary kind of flower arrangements, why not challenge unique type of designs as introduced in this page ? Depending on your creative idea, there must be uncountable variations in the designs you can enjoy. In order for you to find clues for new ideas, one of the recommendable ways is to do internet surfing by entering various key words you are interested in. Then you can find tons of ideas or hints on websites and videos from YouTube etc.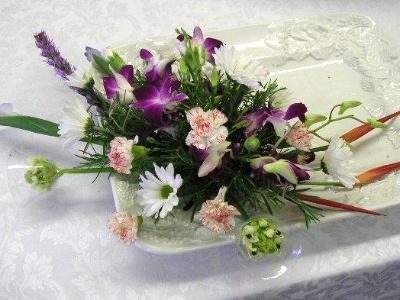 Instructors of California Flower Art Academy are quite familiar with not only western style arrangements but also Japanese Ikebana, which greatly helps us create new type of floral designs. If you are familiar with both of European and Japanese floral arrangements, the scope for you to enjoy floral designs will become much broader and it definitely helps you better enjoy your floral life. Those who are looking something new or different in floral decorations are highly recommended to learn and study at California Flower Art Academy.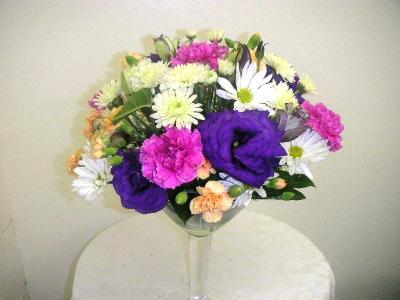 Unlike the 20th century, everybody is now in a position to access to uncountable priceless information through internet. Therefore if you want to make a difference in your floral designs, why not get valuable information from online services ? Once in a while, diligent and enthusiastic students make a special request to our instructor for doing special lessons to challenge unique designs they find on the internet. In order to comply with various requests from our students,
California Flower Art Academy
offers a
Wide Range of Programs
.
You can make a choice of your favorite program (or course) from this list of programs depending on your taste, budget and goal for learning flower arrangement. If you have no previous experiences, we would like to recommend under mentioned programs:
For more information, please contact info@california-academy.com
Here is YouTube video introducing "Make this for MOM ! Mothers Day Arrangement" Source of this video is
Grower Direct Fresh Cut Flowers
. Demonstrator is Deborah De La Flor.


Be the first to post a comment.

California Flower Art Academy
has been engaged in teaching a wide range of floral designs in the San Francisco Bay Area and Silicon Valley (San Jose) since 1990 as a floral school certified by Flower Decorators Association (Tokyo Japan). We offer hands on training of ONE ON ONE instructions (semi private lessons) which greatly help entry level students easily and quickly earn a decent level of skills. If you are looking for a reliable floral arrangement instructors or floral design school offering quality classes with cheap, inexpensive and affordable tuition in the San Francisco Bay Area (San Mateo County) or Silicon Valley (San Jose, Santa Clara County), why not join
California Flower Art Academy
? We help you make a difference in floral art.
RSS
|