All photos in this page show Ikebana arrangements made by our students during real lessons under the directions of our Ikebana instructors.
Many of floral design schools in the United States are operating according to the semester system as adopted by colleges. However
California Flower Art Academy'
s operation is totally different as mentioned below: The way we operate is exactly same as traditional Ikebana class which has been operating in Japan since long time ago.
(1) Semester system not necessary:
Prospective students can join our school any time they like as far as space is available. This means that they can start to take lessons any time they like throughout the year.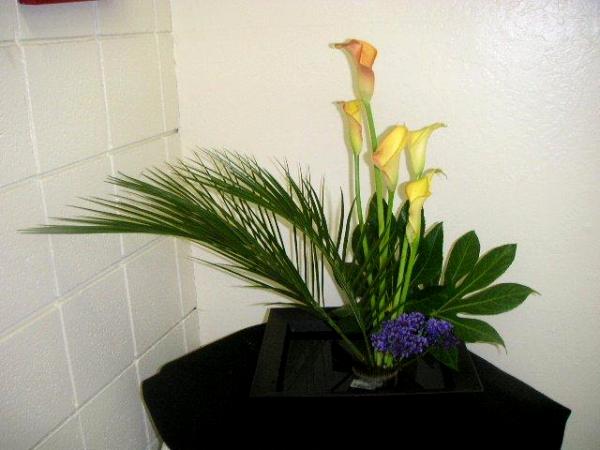 Only because we teach based on semi private lesson system, we do not have to set up semester system. Namely each student can set up their own lesson schedule by well considering their private schedule. As far as their instructor's schedule does not conflict student's schedule request, they can establish their lesson schedule as they like.
This can be done only because we teach in the way of semi private lesson. If each student can set up his/her own lesson schedule, there is no need to follow semester system. Such way can be implemented only because number of students is quite limited as mentioned below.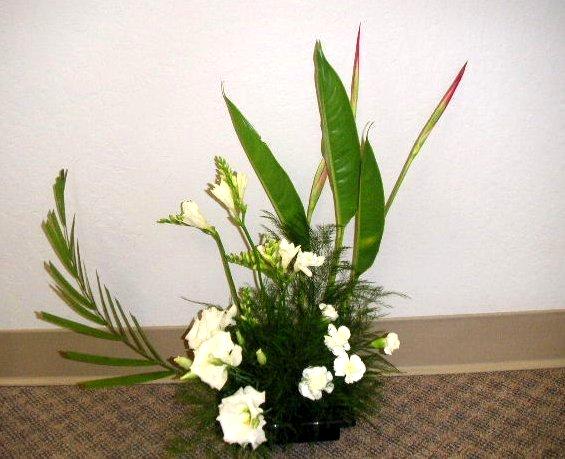 (2) Number of students per class:
We limit number of students to no more than 4 per class. Typical number of students is only 2 to 3 per class, which makes it possible and easy for us to implement a private or semi-private lesson. This is quite important for teaching European floral arrangement and Japanese Ikebana. If there are many students, hands on training of ONE ON ONE instruction cannot be done by one instructor. Flower arrangements (and Ikebana arrangement as well) requires a detail oriented skill, technique, handling and also manipulation of flowers. Therefore most of the time during lessons is spent for skill training rather than teaching concept and theory. Namely our school's class system is the same as Ikebana lesson system done in Japan.
California Flower Art Academy offers a
Variety of Ikebana Programs
from which students can select their favorite one depending on their taste, experience and goal of learning floral art. For more information, please contact info@california-academy.com Here is YouTube video introducing Wafu Ikebana (Wafu School of Ikebana)- California Chapter 45th Anniversary. Video source is
kvandry
.


Be the first to post a comment.

California Flower Art Academy
has been engaged in teaching a wide range of floral designs in the San Francisco Bay Area and Silicon Valley (San Jose) since 1990 as a floral school certified by Flower Decorators Association (Tokyo Japan). We offer hands on training of ONE ON ONE instructions (semi private lessons) which greatly help entry level students easily and quickly earn a decent level of skills. If you are looking for a reliable floral arrangement instructors or floral design school offering quality classes with cheap, inexpensive and affordable tuition in the San Francisco Bay Area (San Mateo County) or Silicon Valley (San Jose, Santa Clara County), why not join
California Flower Art Academy
? We help you make a difference in floral art.
RSS
|