The first, third and fourth arrangements were made by our students under the instruction of our floral design teacher during lessons in our classroom of
California Flower Art Academy
. The second one was made at a wedding hall by our graduate. Suppose you are learning floral arrangement at our school and you are quite diligent to study for finding interesting designs on the internet. When you watch YouTube video or visit websites of a professional floral artist and find a quite creative design. You want to make a similar design by yourself. However you have a little bit difficulty to do the same way of arranging.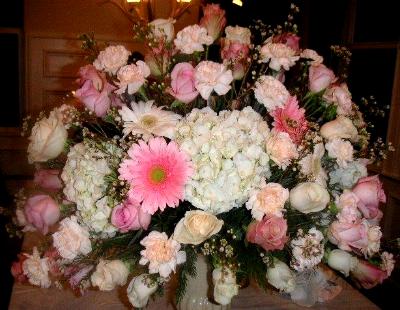 In this kind of case, you need somebody whom you can ask a question or advice. If you are our school's student, you can ask your instructor about what to do and how to do in order to make a similar floral arrangement. Experienced students sometimes find an interesting floral designs on the internet (websites and YouTube videos etc). Our school sometimes provides a special lesson for complying with a student's request. However if this person does not belong to any school, there is no way for him/her to ask a question or request for an advice and suggestion.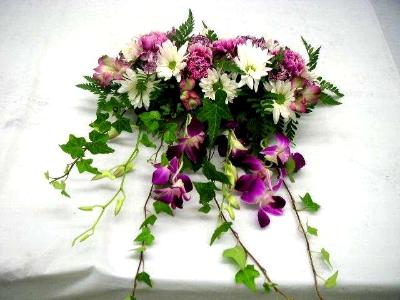 As you know well experienced floral designers or flower arranging instructors can easily digest the information on the internet. Therefore they have no difficulties for making similar designs by watching YouTube video. One of instructor's most important functions is to give an appropriate advice and suggestion to students who have questions. The biggest advantage of having an instructor is for students to make the best use of instructor's ability.
California Flower Art Academy
is more than happy to help our students so that they can satisfy their requirements while they learn at our school.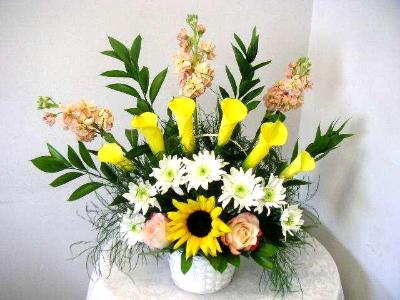 California Flower Art Academy has been teaching various types of floral art from European arrangement to Japanese Ikebana, beginner to professional levels and wedding to funeral arrangements since 1990 as a floral school certified by Flower Decorator's Association (Tokyo, Japan). You can pick up your favorite program from our Wide Range of Programs. If you have no experience, we recommend you to join
Introductory Trial Budget Program
and
Fresh Flower Arrangement Elementary Course
. For more information, please contact info@california-academy.com


Be the first to post a comment.

California Flower Art Academy
has been engaged in teaching a wide range of floral designs in the San Francisco Bay Area and Silicon Valley (San Jose) since 1990 as a floral school certified by Flower Decorators Association (Tokyo Japan). We offer hands on training of ONE ON ONE instructions (semi private lessons) which greatly help entry level students easily and quickly earn a decent level of skills. If you are looking for a reliable floral arrangement instructors or floral design school offering quality classes with cheap, inexpensive and affordable tuition in the San Francisco Bay Area (San Mateo County) or Silicon Valley (San Jose, Santa Clara County), why not join
California Flower Art Academy
? We help you make a difference in floral art.
RSS
|