All these flower arrangements were designed and made by our students under the directions of our instructor during real lessons in the classroom of
California Flower Art Academy
. Once in a while we are approached by people who live outside of California.
Sometimes they are from the East Coast and sometimes from foreign countries. And they ask us if or not we offer online classes. We believe online classes or online lectures are quite effective to people who already have basic flower arranging skills and want to expand the design portfolio of floral arrangements.
Frankly speaking we think learning a quite new concept through online lecture is difficult. Especially something that needs hands on training is quite difficult to learn from internet training system. Again online education or internet lecture is good for experienced people (who are already familiar with flower arrangements) to learn or earn information to expand their design portfolio.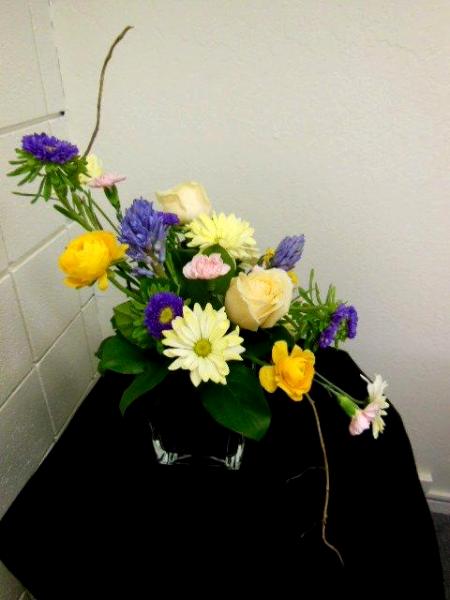 As of February 2016,
California Flower Art Academy
does not offer any online classes. Unless students can easily raise questions to their teacher in a classroom and also unless teachers can provide timely instructions and advice to students, it is difficult for students to earn practical skills of floral arranging. In this sense online education system is less convenient than real lessons in a real classroom. Our school believes that students can earn flower arranging skills by way of hands on training of ONE ON ONE instructions in a real classroom where interactive communications can be made between a student and a teacher.
Unlike learning history on the internet, most of the time spent at a flower arranging classroom is for learning skills and techniques by manipulating and handling fresh flowers together with students. If students have difficulties of making mutual communication with their instructor on real time basis, not only learning but also teaching floral designs online does not sound easy. (not an effective way). Due to this reason, we are not offering online classes.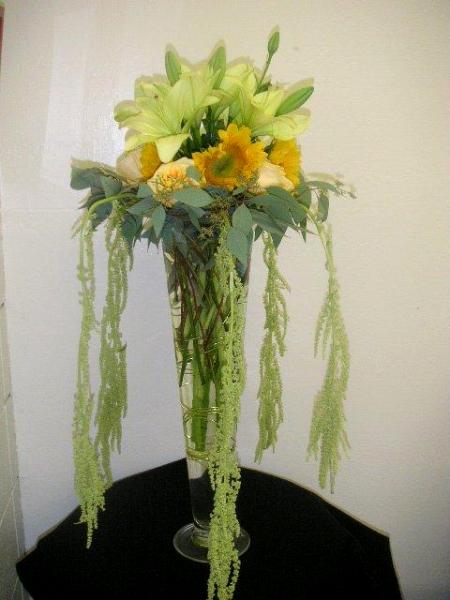 Again in order for experienced people to get hints and clues for a new designs or expanding design portfolio, it is a very good idea to make the best use of online system including YouTube video. And also even beginners can have an idea about the type of floral designs from YouTube video. If you are planning to learn flower arrangements, why not join
California Flower Art Academy
where you can learn by way of semi private lesson (hands on training of ONE ON ONE instructions) by limiting number of students to no more than 4 per class. Also those who already got online training of floral arrangements and could not earn good skill satisfactory to them, we can help improve or enhance floral design skills. For people who need to start from scratch, we recommend following programs:
For further information, please contact info@california-academy.com


Be the first to post a comment.

California Flower Art Academy
has been engaged in teaching a wide range of floral designs in the San Francisco Bay Area and Silicon Valley (San Jose) since 1990 as a floral school certified by Flower Decorators Association (Tokyo Japan). We offer hands on training of ONE ON ONE instructions (semi private lessons) which greatly help entry level students easily and quickly earn a decent level of skills. If you are looking for a reliable floral arrangement instructors or floral design school offering quality classes with cheap, inexpensive and affordable tuition in the San Francisco Bay Area (San Mateo County) or Silicon Valley (San Jose, Santa Clara County), why not join
California Flower Art Academy
? We help you make a difference in floral art.
RSS
|