Click on the photos to enlarge the size. All these floral arrangements were made by our students under the directions of our instructor during a real lesson in the classroom of
California Flower Art Academy
. These are tiny wreaths designed for being displayed on the table as a centerpiece decoration.
We are planning to use the same wreaths for the decorations of Mother's Day coming in May. If you are well trained and make a reasonable practice at home, you can definitely earn a decent floral design skill for making these kinds of arrangements.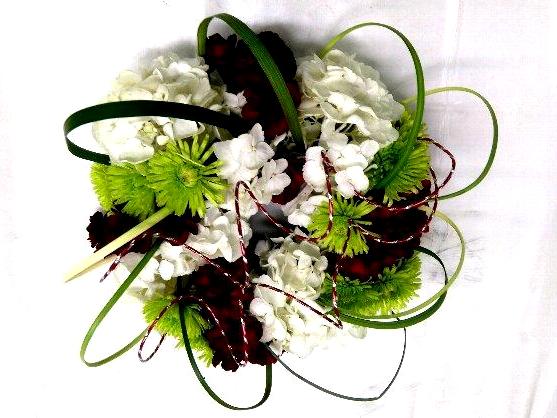 There are so many types of wreaths from Easel Mounted large size wreaths which are often used for wedding reception and funeral ceremony to a garland type wreath as well as a small size wreath designed for a centerpiece as shown in this page.
If you would like to learn how to make wreaths, we recommend you to join
Wreath Making Program
. Besides wreath making program, we offer a
Wide Range of Programs
to comply with various requests from our students. Regardless of the type of designs, European or Japanese, we can help to earn a decent skill.
For those who have no previous experience in floral designs, we would like to recommend under mentioned programs:
If you are too busy and cannot join weekday and daytime lessons, how about joining
Weekend Class
and/or
Evening Lesson
that are offered every week. For more information, feel free to contact info@california-academy.com We help you make a difference in floral art.
Here is YouTube video introducing DIY Spring Decor/Flower Wreath. Source of this video is
Jazz Jennings
.


Be the first to post a comment.

California Flower Art Academy
has been engaged in teaching a wide range of floral designs in the San Francisco Bay Area and Silicon Valley (San Jose) since 1990 as a floral school certified by Flower Decorators Association (Tokyo Japan). We offer hands on training of ONE ON ONE instructions (semi private lessons) which greatly help entry level students easily and quickly earn a decent level of skills. If you are looking for a reliable floral arrangement instructors or floral design school offering quality classes with cheap, inexpensive and affordable tuition in the San Francisco Bay Area (San Mateo County) or Silicon Valley (San Jose, Santa Clara County), why not join
California Flower Art Academy
? We help you make a difference in floral art.
RSS
|