Click on photos to enlarge the size. All these arrangements were made by a florist by the name of
Petals by Cary
run by Cary Li who graduated from
California Flower Art Academy
. These are wedding flower arrangements in which we participated to help make decorations. Cary learned various types of floral arrangements very diligently and earned a pretty high level of arranging skills.
The first one (per the upper photo) is the large size table arrangement. The second one is displayed at the entrance hall and the third one is a flower decorated receptionist counter. These photos were taken before guests arrived at the wedding hall.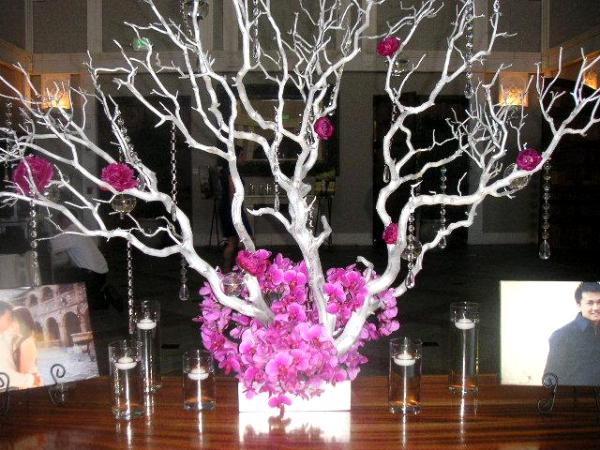 California Flower Art Academy
participate in events once in a while to help or organize floral decorating project. This is one of such activities. When we have students, instructors or interns available for joining such event as a helper. they are also encouraged to join the project.
Quite frankly speak students cannot have such opportunities so often. Therefore this kind of experience must be quite valuable to such students. They can learn from preparing fresh flowers to making floral decorations by participating in such projects. California Flower Art Academy offers a
Wide Range of Programs.
For those who have no experience in floral designs, we recommend them to start from following programs:
If you are specifically interested in wedding flower arrangements, go through the following programs:
For more information, please contact info@california-academy.com We help you make a difference.
Here is YouTube video introducing Head Table Arrangements - Design Pictures. Source of this video is
ilcebasa
. Floral Arrangements by
Joyce Wedding Services
.


Be the first to post a comment.

California Flower Art Academy
has been engaged in teaching a wide range of floral designs in the San Francisco Bay Area and Silicon Valley (San Jose) since 1990 as a floral school certified by Flower Decorators Association (Tokyo Japan). We offer hands on training of ONE ON ONE instructions (semi private lessons) which greatly help entry level students easily and quickly earn a decent level of skills. If you are looking for a reliable floral arrangement instructors or floral design school offering quality classes with cheap, inexpensive and affordable tuition in the San Francisco Bay Area (San Mateo County) or Silicon Valley (San Jose, Santa Clara County), why not join
California Flower Art Academy
? We help you make a difference in floral art.
RSS
|