Photo source of these floral decorations is Better Homes and Gardens. These arrangements are flower baskets using spring flowers. Although we are not teaching this kind of flower basket (using thin basket so that they can be easily mounted on the door or wall), it sounds very interesting not only to us but also to other people who like floral arrangements. If there is a lot of demand, we MAY consider teaching this kind of cute design as well.
After a long winter is over, we are going to have a spring season when we can better enjoy fresh flower arranging by using much broader range of fresh materials. So people whose hobby is floral designing will have a wonderful time shortly. Then we find lots of couples get married. At the moment, current season (between Thanksgiving and Valentine's Day) is sometimes called engagement season. If you are in floral design industry or planning to do floral design business, the spring season is one of the most important time.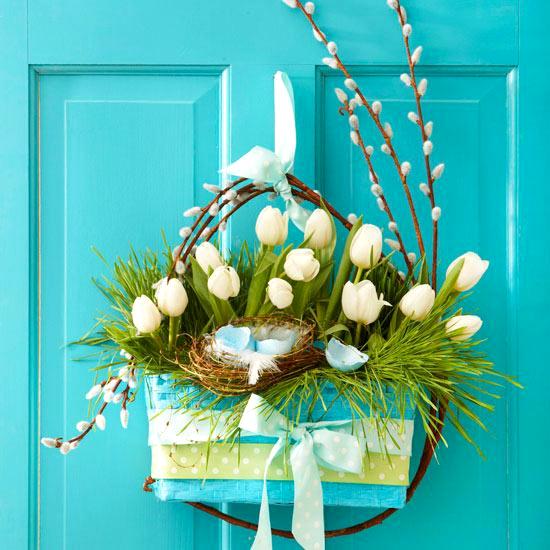 California Flower Art Academy
teaches a variety of flower arrangements by offering a
Wide Range of Programs
throughout the year. If you love flowers and want to earn practical flower arranging skills for hobby or for business, we can help. No what purpose you want to learn flower arrangement, for hobby or for business, you can find a program that can satisfy your needs. Just visit the page showing our
Entire Range of Program
and make a choice of your most favorite program/course by well considering your taste, budget and purpose for learning floral designs.
Those who have no experience in floral arranging, we recommend under mentioned programs:
For more information, feel free to contact info@california-academy.com


Be the first to post a comment.

California Flower Art Academy
has been engaged in teaching a wide range of floral designs in the San Francisco Bay Area and Silicon Valley (San Jose) since 1990 as a floral school certified by Flower Decorators Association (Tokyo Japan). We offer hands on training of ONE ON ONE instructions (semi private lessons) which greatly help entry level students easily and quickly earn a decent level of skills. If you are looking for a reliable floral arrangement instructors or floral design school offering quality classes with cheap, inexpensive and affordable tuition in the San Francisco Bay Area (San Mateo County) or Silicon Valley (San Jose, Santa Clara County), why not join
California Flower Art Academy
? We help you make a difference in floral art.
RSS
|