These floral arrangements were designed and made by our students under the directions of our instructor during real lessons in the classroom of
California Flower Art Academy
. Due to our small size class system limiting number of students to no more than 4 per class (typically 2 to 3 per class), our instructor can well take care of each student and train him/her by well considering the skill level of each student. If you get a full training at our school with reasonable practice at home, you can definitely earn practical flower arranging skills for making these kinds of designs. We have step by step training system so students can easily catch up with our curriculum. That is why we offer
Elementary
to
Instructor
courses.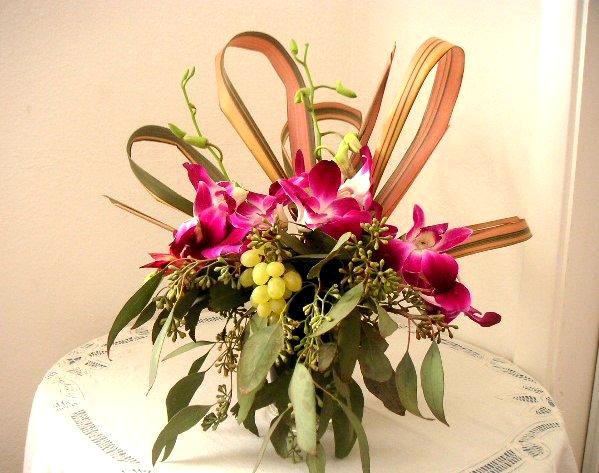 The vast majority of typical students in the United States are satisfied with one day seminar and they do not spend sufficient time and energy for mastering floral designs. This is quite understandable because the purpose of joining a seminar is mainly for having fun and enjoy experiencing a wonderful flower arranging lesson. As far as their goal is just for having fun, that is fine and nobody can complain it. However some of our students who are enthusiastic for earning a high level of flower arranging skills are diligently learning floral designs by climbing a training ladder gradually towards the goal they set up. Among these students some of them learn floral art strictly for hobby and some of them do have a clear goal of running their own floral design business.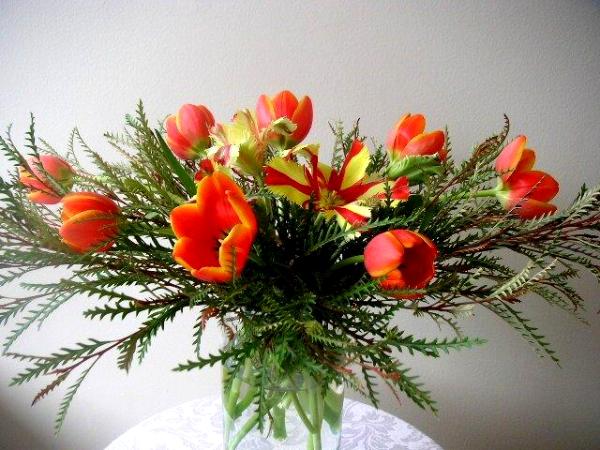 We are more than happy to help them achieve their goal. Quite frankly speaking it is our great pleasure to see the progress for them to make improvements week by week and month by month. Frankly speaking, if they are inherently skillful and resourceful, it is much easier to earn a high level of floral design skills than ordinary people. However by way of getting stable hands on training of ONE ON ONE instructions at our school, they will have a solution to overcome the inherent handicap or disadvantage in the level of skill and resourcefulness. As far as they continue training of floral arranging, even if it is slow and steady, they will be a final winner in floral art. Proven track record shows this is a fact of life.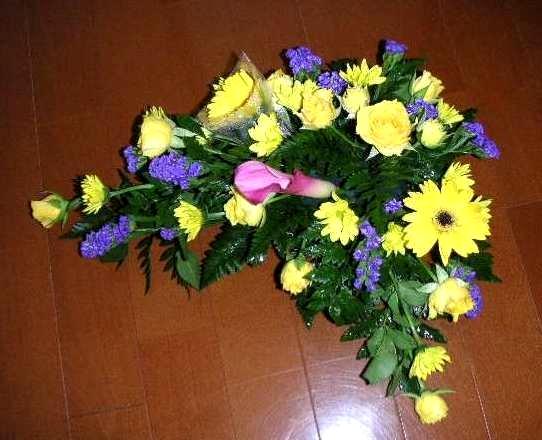 If you are really enthusiastic and ready to make efforts for mastering floral art, we are happy to work with you towards your final goal. We offer lessons for two types of designs. One is European floral arrangement that are good for enjoying as a hobby and also for doing floral business. The other is Japanese Ikebana that is good for learning Japanese traditional floral art. No matter which you want to learn, we offer Elementary to Advanced Course. If you would like to evaluate the way we teach or quality of lessons before signing up for an official course, we recommend following programs:
For more information, please contact info@california-academy.com
Here is YouTube video introducing Creating a European Hand-tied Bouquet. Source of this video is
Sweetpeablooms
. Demonstrator is Molly, Floral Designer Sweetpea's, Toronto ON. Also visit the
Website of Sweetpea's


Be the first to post a comment.

California Flower Art Academy
has been engaged in teaching a wide range of floral designs in the San Francisco Bay Area and Silicon Valley (San Jose) since 1990 as a floral school certified by Flower Decorators Association (Tokyo Japan). We offer hands on training of ONE ON ONE instructions (semi private lessons) which greatly help entry level students easily and quickly earn a decent level of skills. If you are looking for a reliable floral arrangement instructors or floral design school offering quality classes with cheap, inexpensive and affordable tuition in the San Francisco Bay Area (San Mateo County) or Silicon Valley (San Jose, Santa Clara County), why not join
California Flower Art Academy
? We help you make a difference in floral art.
RSS
|