These arrangements were made by our students under the directions of our instructor. All these designs look like a regular table arrangement. However the lowest (3rd) arrangement is a bouquet placed in the vase. Like this picture shows, a bouquet is often displayed on a table as a centerpiece decoration. Not only bouquet but also a pomander is wearable arrangement. However they are often displayed as a centerpiece decoration.
Students usually start from learning how to make centerpieces etc. In
Elementary Course
, they learn total 10 different designs including corsage, bouquet and diamond arrangement etc. Although the title of the course is Elementary Course, this program contains a very broad range of decorations. By way of learning such arrangements and becoming familiar with various ways of arranging, they can earn basic skills required for flower designs.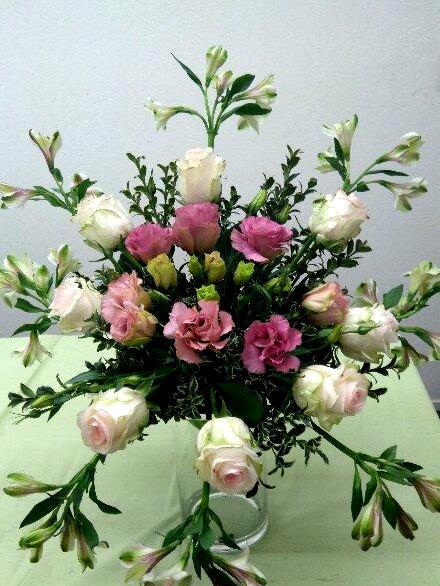 Without learning basics at Elementary Course, it is extremely difficult to proceed to a higher level of courses. Namely unless you become familiar with fundamental skill of floral arranging, you cannot have any further opportunities of enhancing your skills. In order to enjoy the hobby of floral arranging or offer a variety of floral designs to your customers, mastering basics of flower arrangement is so important. People who have fully earned decent basic techniques can enjoy creating lots of design variations in the future. It is not exaggerated to say "starting with basics and ending with basics". If you are interested in basics of European floral arrangement, just go through the curriculum of
Fresh Flower Arrangement Elementary Course
. Then you will become to know how broad range of designs you can learn in this course. If you fully master all the designs introduced in this Elementary Course, you can use the skill for various occasions.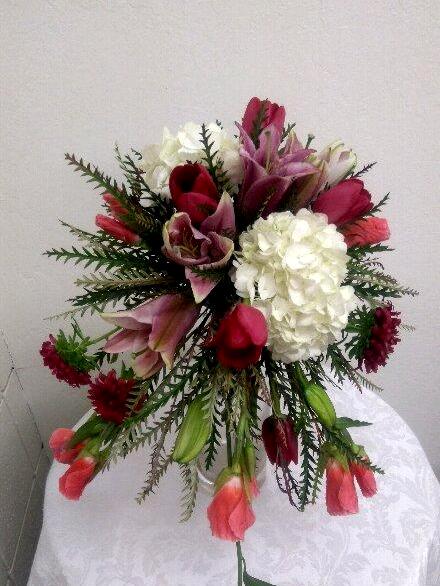 That's why it is mandatory to complete this course before signing up for business oriented programs such as
Wedding Party Arrangement Basic Course
and
Wedding Decoration Advanced Course
etc. etc. If you really want to earn a good flower arranging skill, you should not hesitate to make a small amount of investment because you can expect a big difference and big progress from mastering basic floral arrangement. If you wonder whether you should join Elementary Course, you can sign up for much affordable program that is
Introductory Trial Budget Program
. This is a short seminar learning two designs. By joining Introductory Program, you can evaluate the way we teach and know what kind of lesson you can take. After completing this short seminar, if you like our lesson, you can join
Elementary Course
. If you do not like it, you can stop taking any more lessons. For more information, please contact info@california-academy.com
Here is YouTube video introducing Spring Flower Arrangements: Filling in Spring Flower Arrangements. Source of this video is
expertvillage
. Demonstrator is
Julie Kay Robinson
.


Be the first to post a comment.

California Flower Art Academy
has been engaged in teaching a wide range of floral designs in the San Francisco Bay Area and Silicon Valley (San Jose) since 1990 as a floral school certified by Flower Decorators Association (Tokyo Japan). We offer hands on training of ONE ON ONE instructions (semi private lessons) which greatly help entry level students easily and quickly earn a decent level of skills. If you are looking for a reliable floral arrangement instructors or floral design school offering quality classes with cheap, inexpensive and affordable tuition in the San Francisco Bay Area (San Mateo County) or Silicon Valley (San Jose, Santa Clara County), why not join
California Flower Art Academy
? We help you make a difference in floral art.
RSS
|