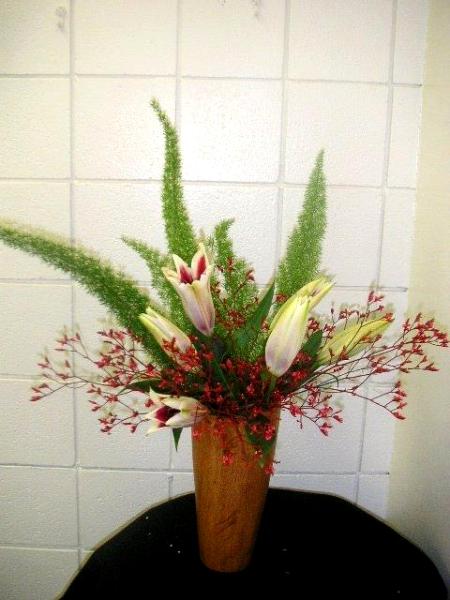 These Ikebana arrangements were designed and made by our students under the instructions of Ikebana teachers during real lessons in the classroom of
California Flower Art Academy
. Ikebana arrangements can be roughly divided into under mentioned two types of arrangements. One is what we call
Moribana
and the other one is what is called
Nageire
. Usually entry level of students are recommended to start learning from Moribana. Only after mastering Moribana, it is better to do Nageire.
Then what is the difference between these two types of arrangements.First of all everybody can easily find the big difference in the type of container. Moribana is arranged in a kind of basin that is called
Suiban
which is a flat and shallow container specifically designed for Ikebana arrangement. In Suiban, we place what is called
Kenzan
that is a needlepoint holder to firmly hold flowers or plants. For holding elements, stems of flowers and plants are inserted onto needles mounted on flat heavy metal plate in round square shape.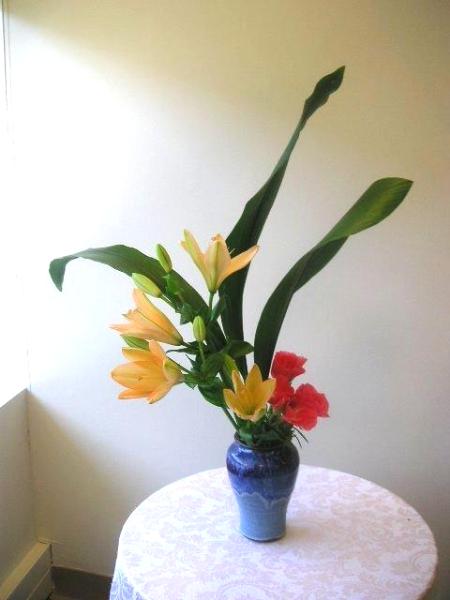 In case of Nageire, we use neither Kenzan nor Suiban. And the containers used for Nageire is usually tall vase with a narrow mouth. Some of tall vases used for Nageire arrangement are made of bamboo which creates natural atmosphere although many of them are recently manufactured from plastic materials. Due to the shape of vase, it is totally impossible to use Kenzan. Then how are flowers and plants held firmly at a certain location inside a vase ? The typical method for holding flowers and plants is by way of using simple stopper or holder instantly made out of part of elements (usually branch of tree etc) used for the arrangement.
This process MAY be a little bit difficult and time consuming if arranged with tree branches. If floral designers think flowers and plants can be held firmly without using any stopper or holder, they can just place elements into a vase by using none of "devices". As seen from above, Nageire looks a little bit difficult for beginners. This is one of reasons why we do not recommend entry level students to try Nageire from the first beginning stage.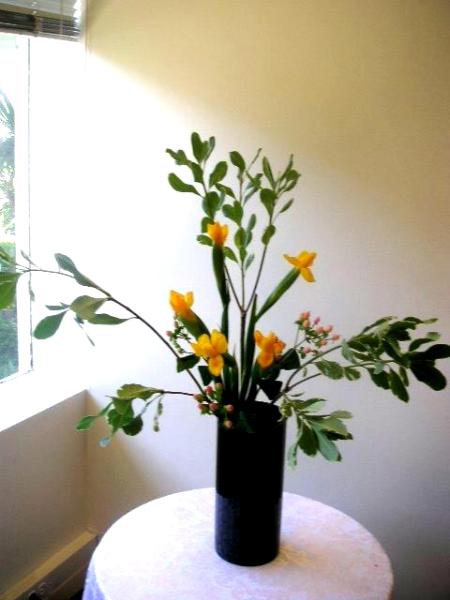 The managing director (head instructor) of California Flower Art Academy started with Ikebana long time ago and got a license of Ikebana instructor when none of Western Style Floral Arrangements were found in Japan. After European arrangement landed on Japan back in 1980's, she learned European style designs and got certification of European floral arrangement instructor. If you are interested in learning Japanese Ikebana, we can help. Those who already have a skill of western style floral arrangement can find a kind of clue or hint for creating new style of floral designs by way of blending western and Japanese arrangements. And actually we can find such floral designers who are actively introducing "contemporary designs" like no others.Those who have no experience in Ikebana are recommended to start from following programs:
REMARKS: We do not offer Ikebana Arrangement Instructor Course. None of our Ikebana courses is designed for training students to become Ikebana Instructor. For more information, feel free to contact info@california-academy.com


Be the first to post a comment.

California Flower Art Academy
has been engaged in teaching a wide range of floral designs in the San Francisco Bay Area and Silicon Valley (San Jose) since 1990 as a floral school certified by Flower Decorators Association (Tokyo Japan). We offer hands on training of ONE ON ONE instructions (semi private lessons) which greatly help entry level students easily and quickly earn a decent level of skills. If you are looking for a reliable floral arrangement instructors or floral design school offering quality classes with cheap, inexpensive and affordable tuition in the San Francisco Bay Area (San Mateo County) or Silicon Valley (San Jose, Santa Clara County), why not join
California Flower Art Academy
? We help you make a difference in floral art.
RSS
|