Do you go to the office to do your full time job or do you go to school to attend lectures during daytime ? After the job is over, you MAY have your free time and it is fully up to you how to spend your own time UNLESS you have a small baby or kids to take care of. In order to support busy people who are unable to take floral design lessons during a daytime, California Flower Art Academy offers Evening Floral Design Class in San Jose.
If you want to learn floral arrangement, you can join this evening lesson. If you already learned floral art and have a flower arranging skill, you can enjoy designing, making and viewing the floral decoration of your own design and idea. This can be done at home and enjoy making floral home decoration. We trained so many students who are now active in flower arrangements.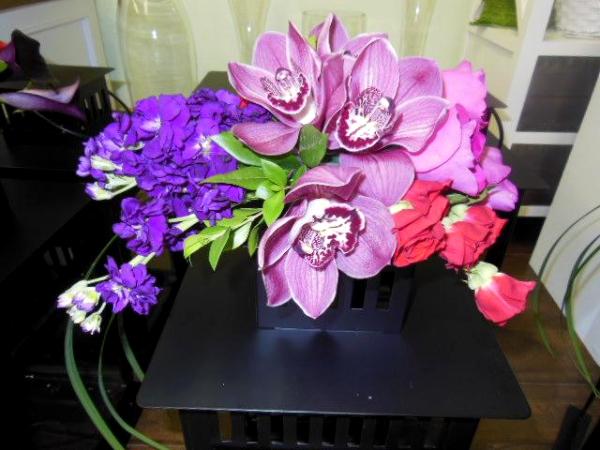 Some people really enjoy a daily life with floral art and some engage in floral business by running a floral shop or offering event floral decorating services. The best part is they can enjoy designing, making and viewing floral arrangements they make by themselves at any time they like. After your job is over, you will be free from a headache and you have a free time to enjoy yourself.
Both pictures in this page show flower designs we made at a big home party in Silicon Valley. We helped made so many floral decorations for this home party involving our instructors. If you love flowers and want to earn flower arranging skills, we can help. After you are trained at our school for a certain period of time, you can earn floral design skills with which you can make floral decorations by yourself anytime you like.
By devoting yourself to something you really like, you can forget everything which causes a headache and you feel relaxed and comfortable. This kind of time is badly required for people who live a busy and difficult daily life.
California Flower Art Academy
is more than happy to help you earn practical skills of floral arrangement. You can start from scratch and we train you so you will be a floral artist. In order to comply with various requests from our students we offer a
Wide Range of Programs
from which you can choose a favorite course depending on your budget and purpose for learning flower arrangement. For more information, please contact info@california-academy.com Here is a YouTube video introducing how to make round flower arrangement. The source of this video is
Golden West College
The demonstrator is Gail Call, AIFD. Also
visit GWC
.


Be the first to post a comment.

California Flower Art Academy
has been engaged in teaching a wide range of floral designs in the San Francisco Bay Area and Silicon Valley (San Jose) since 1990 as a floral school certified by Flower Decorators Association (Tokyo Japan). We offer hands on training of ONE ON ONE instructions (semi private lessons) which greatly help entry level students easily and quickly earn a decent level of skills. If you are looking for a reliable floral arrangement instructors or floral design school offering quality classes with cheap, inexpensive and affordable tuition in the San Francisco Bay Area (San Mateo County) or Silicon Valley (San Jose, Santa Clara County), why not join
California Flower Art Academy
? We help you make a difference in floral art.
RSS
|