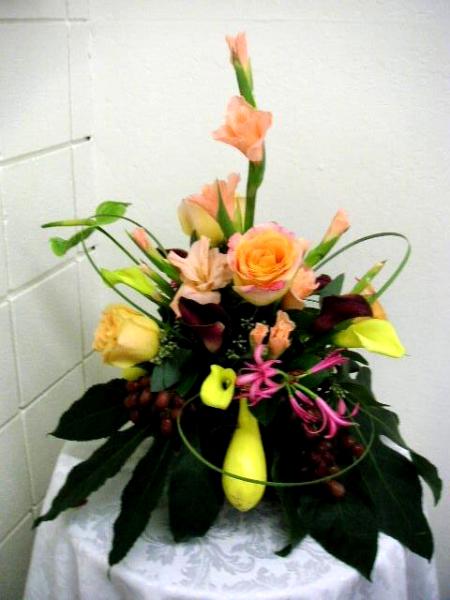 These floral arrangements were designed and made by our students under the directions of our instructor during real lessons in the classroom of
California Flower Art Academy
. Students who are trained at our school can earn skills for making these kinds of floral designs. Many students joined introductory short seminars such as
Introductory Trial Budget Program
(for European arrangements) or
Ikebana Short Seminar Program
before signing up for official flower arranging course. After they have finished the trial lesson per above short seminars, they determined to join official courses such as
Fresh Flower Arrangement Elementary Course
or
Ikebana Arrangement Elementary Course
.
If so, why not do a trial job before implementing start up business of running a floral shop ? After opening a floral shop, it is quite difficult to change their mind for terminating a business. For avoiding a "wrong decision", it is better to work at a floral shop as an intern, volunteer, or employee (part time or full time). This process will help them understand what kind of job it WILL be to run a floral shop.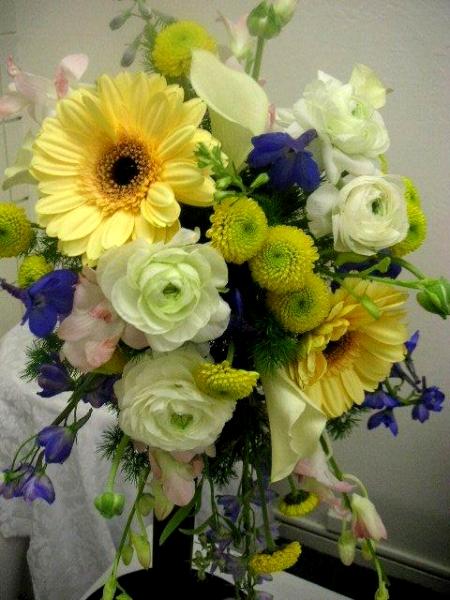 Although they cannot understand the way of doing business as an owner of a shop, they can understand the nature of job to some extent, which is better than nothing as a valuable experience. Although we have lots of know-how and secrets regarding the skill and technique of floral arrangements, we do not have sufficient knowledge for running a floral shop ONLY BECAUSE we have never experienced to run a floral shop. Therefore we are unable to offer any lessons for how to manage a floral shop or how to run a florist or how to make money from owning a flower shop.
If you would like to learn floral designs in order to run a floral shop, it is recommended for you to work for a floral shop so that you will become familiar with day to day operation. This helps you understand the nature of floral shop business. Only after having such experience, it is better to have your own flower shop.


Be the first to post a comment.

California Flower Art Academy
has been engaged in teaching a wide range of floral designs in the San Francisco Bay Area and Silicon Valley (San Jose) since 1990 as a floral school certified by Flower Decorators Association (Tokyo Japan). We offer hands on training of ONE ON ONE instructions (semi private lessons) which greatly help entry level students easily and quickly earn a decent level of skills. If you are looking for a reliable floral arrangement instructors or floral design school offering quality classes with cheap, inexpensive and affordable tuition in the San Francisco Bay Area (San Mateo County) or Silicon Valley (San Jose, Santa Clara County), why not join
California Flower Art Academy
? We help you make a difference in floral art.
RSS
|